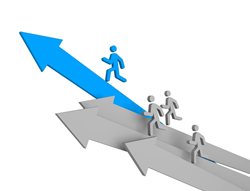 Jancyn has developed programs that can be very effective in gauging the performance level of employees in a merger situation.
San Jose, California (PRWEB) February 24, 2015
The Wall Street Journal reported on February 3, 2015 that office supply retailers Staples and Office Depot are in advanced talks to merge. It has been reported that Staples, founded in 1986 in Framingham, Massachusetts, is valued at $11 billion. Office Depot was also established in 1986 and is headquartered in Boca Raton, Florida. The net worth of Office Depot is $4.1 billion dollars. If the merger goes through as predicted, the resulting entity will be a giant in the office supply industry.
According to Vicki Dempsey, Vice President of Sales and Marketing for the California based Jancyn Evaluation Shops, "One of the primary considerations when two such large enterprises merge is a focus on keeping customer service standards consistent across all locations. Customers want assurances that they will receive the same level of service as they did pre-merger and a fundamental way to do this is via a targeted mystery shopping program."
According to the trade association for this industry, The Mystery Shopping Providers Association of North America (MSPA), mystery shopping has been used in the retail sector as far back as the 1940s. Originally designed to monitor employee activity, including evaluating the integrity of staff members, corporations quickly realized that mystery shopping programs could be used to evaluate the efficacy of their customer-facing staff members. In doing so they can make strides towards improving their training goals and ensure corporate brand values are being met based upon these unbiased reports.
Ms. Dempsey goes on the say, "Jancyn has developed programs that can be very effective in gauging the performance level of employees in a merger situation. In some cases, these programs can be used short term just as the merger is being rolled out and in the subsequent months. But most often businesses opt to use the programs long-term to monitor the success and continued focus on shared performance expectations."
Because the reporting is done in an impartial and anonymous fashion, businesses can rely on mystery shops to provide accurate data regarding the customer service experience of the average customer. Vicki Dempsey also mentions that the reports can evolve over time as businesses offer new product lines or require new customer service behaviors of their employees. For instance, if a business is starting to offer a customer rewards system or use a specific marketing campaign, the mystery shopping report can be adjusted as needed to gain new or additional feedback.
As Staples and Office Depot continue their talks regarding a likely merger, a third partner in this scenario should be a mystery shopping program that can effectively ensure that customers continue to get the same level of service, or better, that they received pre-merger and that their collective profits continue to rise.