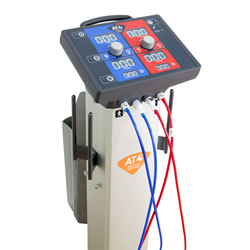 Louisville, KY (PRWEB) February 25, 2015
DRE Medical — a leading medical equipment distributor — is pleased to announce it will be attending the 2015 GSASC & SCASCA Joint Semi-Annual Conference & Trade Show Feb. 26-27. Visit DRE Equipment Experts Dustin Spencer and BJ Stout to learn more about DRE's selection of equipment for today's ambulatory surgery clinics.
DRE carries a wide array of equipment to be used in the ASC, including surgical lighting, electrosurgical units, anesthesia machines, surgical tables, vital signs monitors and more. DRE consistently updates its inventory with new products to better serve customers.
Visit Spencer and Stout at GSASC & SCASCA 2015 to learn about one of the newest DRE products, the AT4 Electronic Tourniquet System — exclusively available in the United States through DRE. The AT4 is an innovative, dual channel surgical tourniquet system with unique safety features that make it an asset to any ASC.
The unit's Biers Block safety mechanism prevents improper cuff deflation, virtually eliminating operator errors during regional anesthesia procedures. The AT4 also performs automatic diagnostic shelf-checks at every start-up, ensuring the unit will be ready to go when you need it.
Intuitive, color coded interface controls and a bright, OLED display make the AT4 Electronic Tourniquet system easy to use, allowing you to focus on the procedure at hand.
Spencer and Stout will also be showcasing these customer favorites at GSASC & SCASCA 2015:

DRE Maxx Luxx LED Surgery Light
DRE ASG-300 Electrosurgical Unit
Refurbished - Drager Fabius GS Anesthesia Machine
Refurbished - Amsco 3080 Surgical Table
DRE FX-300+ Surgical Light Source
Connect with Dustin Spencer and BJ Stout on LinkedIn, and meet them in Atlanta for GSASC & SCASCA 2015. Join the Twitter conversation and tweet @dremed.com for special offers and industry updates.
For information on more upcoming meetings and trade shows, visit our Medical Trade Shows and Conventions Calendar Schedule — a continually-updating, free resource.
About DRE
Since 1984, DRE has worked to be a single supplier for all major operating room equipment and surgical equipment. Inc. magazine named DRE, Inc., a premier surgical medical equipment supplier, to its annual Inc. 5000 list of the nation's fastest-growing companies for three consecutive years.