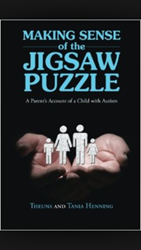 Our victory was not found in curing the disorder, but learning how to live with it and finding our new normal
AUCKLAND, New Zealand (PRWEB) February 26, 2015
Autism is the fastest growing developmental disability in the United States. Statistics show 80 percent of families who have a child with Autism will eventually break up. In his new book, "Making Sense of the Jigsaw Puzzle," Author Theuns Henning offers support for parents by exposing the struggles and rewards of raising a child with Autism.
"Making Sense of the Jigsaw Puzzle" is a compilation of firsthand accounts of two professional parents and their search for answers to the many questions regarding Autism. Inevitably their seven year journey did not give them the answers they first hoped for or longed for, but their faith in the Lord did provide answers. Rather than being a "how-to" book on raising a child with Autism, this book presents Theuns' and Tania's experience of strengthening their faith and their special love for their most special son.
Theuns is a lecturer at the University of Auckland while Tania holds a Masters Degree in Psychology. They were a professional couple, serving God faithfully and expecting the birth of their first child. The high expectations they had for the future came crashing down to earth with fear, confusion and many questions when their son was diagnosed with a severe form of Autism at the age of two.
"Coping with a difficult circumstance is a journey of one step at a time," said Henning. "Our victory was not found in curing the disorder, but learning how to live with it and finding our new normal."
Henning hopes by sharing his family's struggles and experiences other families in similar situations will realize their greater purpose and the special reason they were blessed with a child with Autism.
"Making Sense of the Jigsaw Puzzle"
By: Theuns and Tania Henning
ISBN: 978-1-49085-641-4
Available in softcover, hardcover, e-book
Available on Amazon, Barnes & Noble and WestBowPress
About the author
Theuns and Tania Henning moved from South Africa to New Zealand to further their education during 1999. Theuns received his PhD in civil engineering, while Tania received a master's degree in psychology, both from universities in New Zealand. After being married for fourteen years, their oldest son Reuben was born, and shortly thereafter their daughter Mia. Living in Auckland, Theuns works at the University of Auckland, while Tania has dedicated herself full time with the upbringing of their children.
# # #