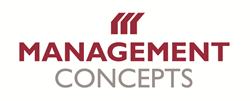 Tysons Corner, VA (PRWEB) February 26, 2015
Management Concepts Inc., the nation's premier provider of professional development, performance improvement, and talent management solutions for the public sector, today announced its participation at the Training Officers Consortium (TOC) Monthly Program, taking place March 10, 2015 at the Fort Leslie J. McNair Officers' Club in Washington, DC.
Together, Management Concepts and TOC have developed a thought-provoking panel discussion where Federal agency Chief Learning Officers (CLOs), representing both large and small organizations, will provide insights into the future of Federal learning and development. Stephen L. Maier, President of Management Concepts will be the moderator. Panelists include:

Dr. Sheila Wright, Housing and Urban Development
Dr. Michael Casey, General Services Administration
Jeffrey Vargas, Commodity Futures Trading Commission
Susan Camarena, Department of Transportation, Federal Transit Administration
The registrants of the January TOC Monthly program completed a survey to develop questions for this March 10 panel. Attendees will learn about the roles and responsibilities of learning and development leaders within select agencies and discover the answers to some key questions:
1. How do you encourage upper management to support the training, learning, and development program in your organization?
2. In the current fiscal environment, what is each panel member's number one strategic training priority?
3. Where will a CLO need to focus his/her attention over the next five years?
4. As a provider of executive education, what programs, courses, and developmental activities would you like to see developed? What training, learning, and development needs are not being met currently?
5. What are the key focus areas for sustaining an organization's learning and development program?
TOC established this professional development program as a monthly lecture and workshop series, featuring specialists in human resource development, education, technology, economics, business, political science, and personal development.
About Management Concepts
Management Concepts is the nation's premier provider of professional development, performance improvement, and talent management solutions for the public sector. Since 1973, we've collaborated with and supported every major agency in the Federal government, thousands of state and local government offices, numerous non-profit organizations and universities, and hundreds of corporations; unleashing the potential of more than one million individuals and enhancing the performance of teams and organizations. Visit http://www.managementconcepts.com
About TOC
The Training Officers Consortium, founded in 1938 in Washington, DC, is a nonprofit organization of federal trainers and other professionals from industry and academe who are interested in contributing to the knowledge and practice of human resources and training. Our registrants provide services and networking opportunities to the federal training community throughout the Washington, DC metropolitan area as far south as Hampton, Virginia. Visit http://www.trainingofficers.org/