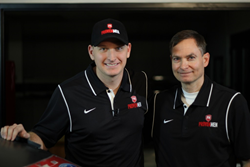 When it comes to the dangers of Internet pornography, I don't go it alone, and neither should you. Join with me and my team of Proven Men
Lynchburg, Virginia (PRWEB) February 27, 2015
Like most NASCAR drivers, Michael McDowell knows first-hand that it takes teamwork to reach Victory Lane. That's why he's endorsing Proven Men Ministries for those seeking a solid support system in their battle for sexual integrity.
The goal of Proven Men, a non-profit ministry, is to help 1 million men escape from the grip of lust, the lure of pornography or other sexually addictive behaviors.
"It takes guts to race at 200 miles per hour," McDowell said. "But it takes real courage to admit that you can't go it alone or that you need help."
To assist Proven Men get its message out, NASCAR driver Michael McDowell is being featured in a series of brief, professionally produced video clips. The first one is being released today.
Click here to view Michael McDowell's message and video.
"We applaud Michael and his passion about his faith and about helping men win the battle and live victorious lives," said Joel Hesch, founder of Proven Men and a law professor.
As a youngster, McDowell quickly made the transition from big wheel and BMX to competitive karting, winning a World Karting Association Championship as well as back-to-back International Kart Federation championships. He went on to earn experience and respect in a number of other notable racing venues, including Star Mazda and ARCA, where he won "Rookie of the Year" honors in each.
The Glendale, Arizona, native made his NASCAR debut in the Craftsman Truck Series in 2007. In 2013 he finished an impressive ninth in the Daytona 500. McDowell is expected to do even better this year—but, as with all pro drivers, the journey has had its share of bumps and lumps.
In 2008, during a qualifying run at Texas Motor Speedway, McDowell's car spun around, smacked into the wall, flipped onto its roof, and then spectacularly flip-flopped eight times—all the while with flames shooting from the engine compartment. One of the announcers summed up the crash this way: "Oh my gosh. I have never seen anything like that in my life."
Miraculously, McDowell climbed out of the brutally battered hulk of a car, and waved to the crowd as he walked away.
"There is one thing that is more dangerous than driving a racecar," he said. "Internet pornography is wrecking the lives of millions of men and destroying their families. When it comes to the dangers of Internet pornography, I don't go it alone, and neither should you."
Both NASCAR driver Michael McDowell and Proven Men founder Joel Hesch are reaching out to men seeking help in their fight against pornography and sexual addition.
"Won't you join with me and my team of Proven Men?" McDowell said. "Together, we can win at the most important battle of our lives."
ABOUT: Proven Men Ministries is a non-profit ministry with the goal of helping 1 million men experience victory from the grip of lust, pornography or other sexually addictive behaviors. Proven Men developed a system to help men overcome pornography addiction, including a 12-week course of study, a leadership guide and a book on sexual integrity—all available on Amazon. Its website also has free resources.