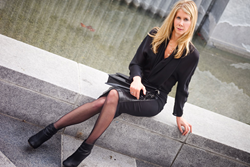 SAN FRANCISCO (PRWEB) February 25, 2015
Jill Milan®, a provider of designer Italian accessories, today announced founder and CEO Jill Fraser will appear on a panel discussing "Women in Business & Tech" during Fashion Tech Week 2015 in San Francisco, produced by San Francisco Fashion and Merchants Alliance Inc., FashionTechPR and Fashion Tech Media, LLC. The panel will be hosted at the San Francisco headquarters of fashion shopping site Threadflip today at 6 p.m.
Ms. Fraser co-founded Jill Milan in 2010. She previously served as chief marketing officer for a venture-backed online advertising network focused on luxury products. She also co-founded a soft drink company and developed Virgil's Root Beer, the first all-natural root beer and the only drink ever to win the "Outstanding Beverage Award" three times at the International Fancy Food Show. Ms. Fraser holds bachelor's and master's degrees from Oxford University in England.
Jill Milan handbags are entirely made in Italy, by Italian artisans using Italian materials. The brand has been featured in leading fashion publications such as W Magazine, and has appeared on television and in films. Jill Milan is a favorite among Hollywood celebrities and has been carried to red-carpet events by actresses including Anne Hathaway, Jennifer Lawrence, Eva Longoria, Amy Poehler and Kerry Washington. All Jill Milan products are free of animal-based materials such as leather, fur and wool – Ms. Fraser was inspired to found Jill Milan because she was unable to find high-quality, luxury handbags that were not made of leather or other animal-based materials. In 2013 Jill Milan was named Vegan Business of the Year by the organization Vegans are Cool.
Leah Hunter of Fast Company and Meghan Cast of Threadflip will also be on the panel, which will be moderated by Ellie Williams of personal styling company Tog + Porter. Members of the media interested in covering this event should visit the Fashion Tech Week 2015 website's media page. The event will be at Threadflip's headquarters at 2360 Third Street, San Francisco.
About Jill Milan
Jill Milan is a provider of luxury Italian handbags and fashion accessories. Made of exquisite materials, Jill Milan products are crafted in Italy by artisans who have created handbags and accessories for some of Europe's best known fashion houses. All Jill Milan products are free of animal-derived materials, and the company contributes to animal-welfare organizations. Jill Milan is the only luxury handbag line entirely free of animal-derived materials which regularly appears on Hollywood's red carpets. Visit Jill Milan on the Web and follow Jill Milan on Facebook.
Jill Milan and the Jill Milan logo are registered trademarks of Jill Milan LLC, and are protected by trademark laws of the United States and other countries. Emmy is a trademark of the Academy of Television Arts & Sciences. Academy Award is a registered trademark of the Academy of Motion Picture Arts and Sciences. All other product and company names are trademarks or registered trademarks of their respective companies.