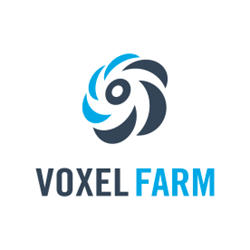 The Voxel Farm team will be exhibiting for the first time at the Game Developers Conference in San Francisco from March 4th-6th at booth 2320
Brossard, QC (PRWEB) March 03, 2015
Voxel Farm Inc. is launching 3 new licensing packages for their engine technology at the Game Developers Conference taking place in San Francisco this week until March 6th 2015. The new packages will allow hobbyists and indie developers to include Voxel Farm in their projects.
The packages; Creator, Indie and Pro are designed with different uses in mind. With a Creator package, individuals and teams create worlds and build content within them. With the Indie package, hobbyists and small teams can use the SDK to plug and customize Voxel Farm into any application they want. The Pro package gives full access to the engine and source code. Information on pricing for each plan is available on the company website.
The Voxel Farm team will be exhibiting for the first time at the Game Developers Conference in San Francisco from March 4th – 6th at booth 2320, to present their procedural content generation and collaboration systems to fans and potential clients. To book a meeting with Voxel Farm, please contact the team through GDC Business Matchmaking.
About Voxel Farm Inc. (http://www.voxelfarm.com):
Established in 2012 by Miguel Cepero (CEO), Voxel Farm Inc. is a leader and innovator in procedural generation and creative collaborative applications, using automation and crowdsourcing to help its clients create fully customizable and destructible virtual worlds while cutting down on development costs. Voxel Farm's engine technology is the basis for several games such as EverQuest Next, Landmark and Crowfall.