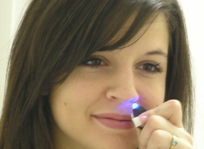 The new and improved UV-Aid has kept me free from colds and flu for the last two years.
Fort Myers, Florida (PRWEB) February 27, 2015
Marking its fifth successful year of business, UV Technologies, LLC of Fort Myers, Florida, today announced the development of a new and improved UV-Aid light supplement for the prevention of colds and flu due out this spring. UV-Aid is a unique and patent pending technology that uses UVA light to produce germ killing hydrogen peroxide in areas of the body susceptible to infection. UVA light has been proven to be safe on human skin and the daily dose of UV-Aid is equivalent to less than a second of exposure in natural sunlight. The new and improved UV-Aid produces more hydrogen peroxide with a more effective beam of light.
According to the inventor of UV-Aid and President of UV Technologies, Kevin McGuire, "I have been using the new UV-Aid for the past two years. I am very pleased with the results. Before using UV-Aid I used to suffer from five to six bad colds a year along with bronchitis. I used to spend nearly every morning at the kitchen table breathing through my nebulizer in order to clear my lungs. Since taking the new UV-Aid two years ago, I haven't had a single cold, no flu (I don't get the flu shot), and I can't honestly tell you where the nebulizer is stored anymore. I feel great and my quality of life is where I want it."
UV-Aid's customers are also very satisfied with the ability of the product to prevent colds, flu, and in addition preventing ear infecting and sore throats. UV Technologies has been a member of the Better Business Bureau since 2011. Due to its outstanding record of quality products and service, UV Technologies has the highest rating of A+.
UV Technologies, LLC's mission is to promote health and well-being using the energy of light. UV-Aid helps prevent colds, flu, sore throats, sinus and ear infections through the process of photo-oxidation. Germ killing hydrogen peroxide is produced in areas susceptible to infection. UV Technologies offers other innovative products for its customers to live a healthier and more productive life including iTanSmart, an app. that helps prevent sunburns and monitor sun exposure.