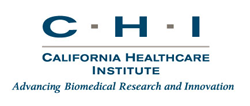 Enactment of the FDA SOS Act will help ensure that the FDA receives the funding it needs to conduct its congressionally-mandated product review responsibilities. - Todd Gillenwater, CHI's Sr. VP - Public Policy
La Jolla, Calif. (PRWEB) February 25, 2015
CHI-California Healthcare Institute issued the following statement in support of the FDA SOS (Safety Over Sequestration) Act, legislation introduced today to protect industry user fees paid to the U.S. Food and Drug Administration (FDA) from any future across-the-board cuts due to sequestration. This statement may be attributed to Todd Gillenwater, CHI's Senior Vice President of Public Policy.
"On behalf of the more than 275 life sciences organizations we represent, CHI applauds Reps. Anna G. Eshoo (D-Calif.) and Leonard J. Lance (R-N.J.) for leading the charge to protect the FDA from the serious threat of potential future user fee cuts brought on by sequestration. History shows that a well-funded, science-based FDA and consistent, predicable and transparent product review processes are critical for biomedical investment and innovation. It would not be possible for the United States – with California front and center – to become the global leader in life sciences innovation, without adequate funding of FDA, including its industry-paid user fees. These fees contribute substantially to supporting the FDA's drug, biologic, biosimilar, medical device and diagnostic product review activities."
"While Congress passed a bipartisan spending plan in 2014 to rescind sequestration for two years, and restored to FDA the $85 million in FDA user fees that were locked away in FY2013, long-term threats to the Agency must still be resolved. Given that sequestration may be triggered again in FY2016 – just as the next round of user fee negotiations commence – it's critical that Congress act swiftly to ensure that FDA's ability to access industry-paid user fees is unrestricted and unaffected by potential cuts."
"Enactment of the FDA SOS (Safety Over Sequestration) Act will help ensure that the FDA receives the funding it needs to conduct its congressionally-mandated product review responsibilities. Sequestration of already paid user fees could only threaten to disrupt progress that could lead to delays in patient access to vital new technologies, while further stifling an already significant downturn in life sciences capital investment. We look forward to continue working with Reps. Eshoo and Lance, bipartisan members of the House Energy and Commerce Committee, House Leadership and our congressional delegation to advance this common-sense legislation that will benefit patients nationwide for many years to come."
Click here to read CHI's letter of endorsement for the FDA SOS Act.
About CHI-California Healthcare Institute
CHI represents more than 275 leading biotechnology, medical device, diagnostics and pharmaceutical companies, and public and private academic biomedical research organizations. CHI's mission is to advance biomedical research, investment and innovation through effective advocacy of policies to improve public health and ensure continued vitality of the life sciences sector. CHI's website is http://www.chi.org. Follow us on Twitter @ calhealthcare, Facebook, LinkedIn and YouTube.
Contact:
Will Zasadny
Manager – Communications; California Healthcare Institute
Zasadny(at)chi(dot)org
Phone: (619) 961-8848