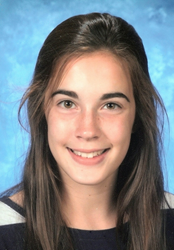 New York, NY (PRWEB) February 27, 2015
The Anne Frank Center USA is proud to announce that Katie Wilmore has won the first Anne Frank Center USA National Essay Contest. As the winner, she will receive three round trip tickets, sponsored by KLM Royal Dutch Airlines, for herself and two guests to Amsterdam. There she will receive a private tour of the Anne Frank House, where the young writer spent two years in hiding.
The contest was launched last October for middle school students in honor of the National Day on Writing. After receiving nearly 500 entries from around the country, Katie's essay "Soar" was selected for its honesty, optimism, and poise – three traits that Anne Frank herself epitomized. As she writes in the essay:
"Anne Frank once wrote in her diary, 'I still believe, in spite of everything, that people are truly good at heart.' When I first read this, it confused me…Doesn't she know that millions of people are being slaughtered for simply being themselves?... Eventually I realized she did probably know these things, and was openly refusing to give up on people. She knew that even behind the most shortsighted of eyes was a mind reaching out, struggling to understand the world around it."
An 8th grader at Maumee Valley Country Day School in Toledo, Ohio, Ms. Wilmore - who in her own words has never traveled "farther than Florida" - was thrilled by the news. "Anne Frank was a girl I had heard a lot about but never really bothered to read about. I am so glad that I participated in this contest because I got to know her incredible story and now get the chance to explore the place where she once lived. This award is a wish come true."
The Anne Frank Center USA was founded by Anne's father, Otto Frank, the only member of her family to survive the war. It uses the diary and spirit of Anne Frank as unique tools to advance her legacy and to educate young people about the consequences of intolerance and the need to work toward a world based on mutual respect.
"Among the many things Anne Frank continues to teach us is that children matter and can make a positive difference," says Yvonne Simons, Executive Director of The Anne Frank Center USA. "Katie's essay exemplifies this fact. With its message of hope and compassion, it reminds us that if people join together with open minds and open hearts, the world will be a much better place. We are so proud to honor her with this award."
The Anne Frank Center USA expresses its deepest gratitude to KLM Royal Dutch Airlines for sponsoring the Grand Prize, as well to the DoubleTree by Hilton at Amsterdam Centraal Station, which is providing three nights in the hotel for three guests, and The Anne Frank House, our oldest partner, for offering a private tour.
To read Katie's award-winning essay, please visit: http://annefrank.com/afc-nationalessaycontest/
About KLM
KLM Royal Dutch Airlines was founded in 1919, making it the world's oldest airline still operating under its original name. In 2004, Air France and KLM merged to form AIR FRANCE KLM. The merger produced the strongest European airline group based on two powerful brands and hubs – Amsterdam Airport Schiphol and Paris Charles de Gaulle. Retaining its own identity, the group focuses on three core businesses: passenger transport, cargo and aircraft maintenance.
In the Netherlands, KLM comprises the core of the KLM Group, which further includes KLM Cityhopper, transavia.com and Martinair. KLM serves all its destinations using a modern fleet and employs over 33,000 people around the world. KLM is a leader in the airline industry, offering reliable operations and customer-oriented products resulting from its policy of enthusiasm and sustainable innovation.
KLM is a member of the global SkyTeam airline alliance, offering customers an extensive worldwide network. The KLM network connects the Netherlands to every important economic region in the world and, as such, serves as a powerful driver for the economy.
For more information, visit http://www.klm.us, facebook.com/KLMUSA and @KLM_US .