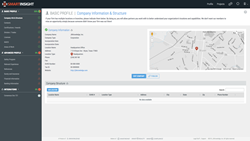 For the subcontractors who claim a free profile in SmartInsight, Dun & Bradstreet gives instant credibility through company verification by D-U-N-S number.
Bryan, Texas (PRWEB) April 23, 2015
The construction industry has long been burdened with outdated and unconsolidated contractor data. Most general contractors store vendor information in silos of PDFs and text documents across desktops and the web. This makes it difficult to maintain a current, consolidated record of qualified subcontractors and suppliers. This also makes it difficult for the subcontractor to maintain and control who has access to their project qualification data. To address this burden, JBKnowledge, makers of the SmartBidNet, SmartReality and SmartCompliance cloud, mobile and wearable solutions for construction, have launched a new online network, called SmartInsight to help all builders maintain, share and request qualification data for construction projects.
"SmartInsight started as a redesign of the public registry of subcontractors available in our SmartBidNet bid software, but it has evolved to be much more. We decided to take the SmartInsight Contractor Registry a step further by integrating verification tools run by Dun & Bradstreet®, the world's leading source of data on commercial businesses. For the subcontractors who claim a free profile in SmartInsight, D&B gives instant credibility through company verification by D-U-N-S number. This is huge for subs and the GCs accessing their data." stated JBKnowledge President, James Benham.
At this time, only general and prime contractor users of SmartBidNet can tap into the full SmartInsight Contractor Registry for inviting verified subcontractors to prequalify and bid on projects. In addition to the Contractor Registry access, SmartBidNet users also have integrated access to SmartInsight's Public Agency Database - with over 500,000 subcontractor and supplier company records from over 75 public agency databases that are updated in the SmartBidNet system monthly.
To join the SmartInsight network and make their company information available to thousands of general and prime contractors managing bid projects in SmartBidNet, subcontractors and suppliers can claim a free profile at https://secure.smartinsight.co/. After building out their basic and advanced profile, subcontractors can also generate, export and share a completed ConsensusDocs® 721, based on their profile information, with one click, all at no charge.
The next phase of SmartInsight will feature an inbox for receiving and replying to project prequalification and bid requests; advanced search capabilities for finding contractors and suppliers by location, trade code, project history and more; a public profile that can be customized and distributed by URL to potential partners; and integration with global risk scoring solutions.
SmartInsight is poised to become the largest and most accurate compilation of subcontractor and supplier data in the construction industry.
To learn more about SmartInsight visit http://smartinsight.co
About JBKnowledge, Inc.
JBKnowledge develops web, mobile and wearable technology solutions for construction, risk management, and insurance. JBKnowledge is the maker of the SmartBidNet commercial construction bid software, SmartCompliance certificate of insurance and compliance management software, SmartReality augmented reality mobile app for construction project visualization, and the SmartInsight construction contractor network. JBKnowledge is based in Bryan/College Station, TX, and serves construction clients on an international basis. Learn more about JBKnowledge's construction solutions at smart.build.