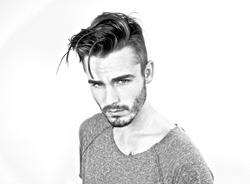 Popular culture is bringing a new relevance to the barber shop and the art of barbering
San Diego, Calif. (PRWEB) February 26, 2015
Growth in the men's grooming industry continues to soar as evidenced by a EuroMonitor International Report that U.S. men's grooming sales will top $6.5 billion in 2018. In response to the robust demand for precision barbering cuts, Bellus Academy's Poway campus is launching a barbering program in partnership with internationally acclaimed hairstylist D.J. Muldoon of San Diego's "The Factory" salon. The proprietary curriculum features 10 signature barbering cuts inspired by period-drama programs including "Boardwalk Empire" and "Mad Men". "As we educate the next generation of beauty and wellness professionals, we're experiencing a renewed demand for the classic barber experience including precision cuts and shaving," said Lynelle Lynch, owner of Bellus Academy.
The trend toward barbering is enticing cosmetologists to enter the barbering sphere. Leading hairstylist D.J. Muldoon said he expects more salons to get on board with the trend of adding barbering to their service menu. "The gentleman cuts sported by celebrities at the Oscars have recently made their way into the local business sector and the resurgence of shaving is another trend driving the barbering business," Muldoon said. Hairstylists licensed in California will be credited with 1100 of the 1500 hours required for Bellus' barbering program.
California is currently ranked third in the country for employment in barbering, and the U.S. Department of Labor projects employment of barbers to increase 13 percent from 2012 – 2022.
Bellus Academy's lead barbering educator Emanuel SanMartin is overseeing the program's rollout. "Popular culture and period dramas are bringing new relevance to the barber shop and the art of barbering," San Martin said. "Classic haircutting and shaving for men is an art that is being rediscovered by hairstylists and clients."
To acquaint prospective students – and those just interested in spring 2015 barbering trends – with the 10 signature barbering cuts, Bellus Academy will host a "Look & Learn" program at its Poway campus on March 9, between 6 and 9 p.m. The barbering program launches March 17 and enrollment is now open. Learn more at http://www.bellusacademy.edu.
Bellus Academy is an award-winning beauty and wellness institution dedicated to graduating career-ready professionals. Bellus specializes in advanced training and has built a reputation for innovative education, consistently nabbing top honors in Modern Salon's Excellence in Education program. Bellus Academy continues to partner with the highest caliber of experts, product lines and equipment manufacturers, raising the bar for educational training worldwide.