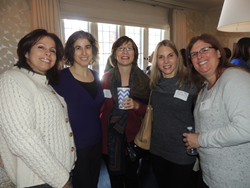 seniors living in suburban settings are particularly prone to loneliness and isolation
Scarsdale, NY (PRWEB) February 26, 2015
The DOROT Westchester committee welcomed community members at the home of Marci and Jeremy Cohen for coffee and conversation with Dr. Danielle Ofri.
Dr. Ofri, an Associate Professor of Medicine at NYU School of Medicine and clinician at Bellevue Hospital, spoke about her newest book entitled What Doctors Feel: How Emotions Affect the Practice of Medicine. She touched on how doctors experience fear when someone's life is in their hands, as well as the difference between shame and guilt when a mistake is made. She also spoke about humor, and how it is necessary in such a serious career path.
Throughout her talk, Dr. Ofri emphasized the importance of developing strong relationships with patients and getting to know them as people, not just a sum of symptoms. She recalled her own experiences as a medical resident, and explained that she is now teaching her student residents how to face their challenges and build rapport with patients.
One DOROT Westchester committee member asked Dr. Ofri for advice on building relationships. "We work with seniors" the committee member said, "and often volunteers struggle with the challenges of becoming attached to someone so late in their life. I visited a woman for many years [as part of DOROT's Friendly Visiting Program and she passed away. Now I am visiting someone again who is in her 90's, and I don't regret it, but do you have any advice on building relationships with people who are towards the end of their lives?"
Dr. Ofri responded that it was a mitzvah, a good deed, to befriend someone as vulnerable as the elderly often are (as are some of her more marginalized patients at Bellevue). She said that feeling sadness and loss is part of what makes us human, and that the sadness means we are still connecting emotionally. She noted that a study of oncologists, whose patients have higher mortality rates, found that those who try to compartmentalize work away from feelings often do not succeed in separating the two.
Mark Meridy, Executive Director of DOROT, attended the event and spoke about the importance of DOROT in the community and the difference that the volunteers and supporters in Westchester are making for the older adults. "Social isolation has been shown to have serious health consequences and seniors living in suburban settings are particularly prone to loneliness and isolation. Dr. Ofri was an incredibly engaging and insightful speaker on the issues that are important to us," Meridy says.
Since 2004, DOROT's Westchester programs have effectively combated social isolation among older adults in the county with food deliveries, weekly volunteer visits, intergenerational Shabbat celebrations, youth programs, and teleconference classes and support groups. For more information about DOROT Westchester including upcoming programs like these, please visit http://www.dorotusa.org/westchester.