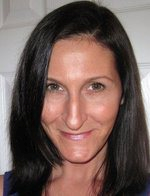 "Finding Grace Again touches the core of who we are. Everyone hits bottom; how do we pick ourselves up and begin again?"
Reston, Virginia (PRWEB) February 26, 2015
Finding Grace Again is a new book by author Beth Jannery. The book is 120 pages (ASIN B00QPMO07Q) and was published by World Castle Publishing and can be purchased for $8.99 from Amazon.com and Barnes & Noble.com and $2.99 from Kindle and Nook.
This is Jannery's fourth book: she was just selected as one of 2014's best selling authors by the publisher of another of her books, The Admiral's Daughter.
Editor Hillel Black believes Finding Grace Again combines the page turning excitement and emotional impact of The Big Chill and Eat, Pray, Love. It is the heart-breaking, heart-warming story of one woman who loses everything and must begin again. A thirty-something stay-at-home-Mom, Regan feels like she's living the perfect life until her husband betrays her. She drives away with her daughter, angrily texting in a confused fog…and then crashes her car, killing her five-year-old daughter Grace. After a divorce and the sale of her dream home, Regan has no idea how she can cope or what she should do next. She retreats to the Berkshires in Massachusetts to find herself. She meets a cast of characters who help her rediscover herself: she learns that life is for living. And then she finds Grace again.
"Finding Grace Again touches of core of who we are," explains Jannery. "Everyone hits bottom, how do we pick ourselves up and begin again? How do we recreate ourselves after life doesn't turn out as we planned? I've also addressed the reality of texting and driving," she adds. "With this book I'm talking about people and their dreams, and what we can do to make them come to life. I hope people are inspired by this story not to quit, not matter what life puts in your way. Another theme in the book is that no man is going to save you," she adds.
Jannery touches on a very important contemporary concern---texting and driving. The Virginia Tech Transportation Institute explains that "Five seconds is the average time your eyes are off the road while texting. When traveling at 55 mph, that's enough time to cover the length of a football field. In addition, a texting driver is 23 times more likely to get into an accident compared to a non-texting driver. The U.S. Department of Transportation offers that As of February 2015, 44 States, the District of Columbia, Puerto Rico, Guam and the U.S. Virgin Islands ban text messaging for all drivers.
Beth Jannery is the Director of the Journalism Program for George Mason University outside of Washington, DC where she teaches writing and communication. Beth started her journalism career at CNN's Investigative Reporting Unit. She was a journalist in Washington, DC covering the Pentagon and worked for Harvard University's John F. Kennedy School of Government; she also lived in Thailand, working for the largest English-language newspaper there. She lives in Northern Virginia where she writes and raises her daughters, Skye and Tess. She earned her master's degree in journalism from Boston University. Jannery is the author of The Admiral's Daughter and Simple Grace: Living a Meaningful Life as well as the journalism and communication textbook What's the Story? The Art of Writing & Communication and Shut the Hell Up!: 101 Reasons to Appreciate Your Life, Government and Society Today (with Jonathan Barney). She also contributed to Deborah Tannen's You're Wearing That? Understanding Mothers and Daughters in Conversation.
For more information: https://www.facebook.com/bethjannery?fref=ts or https://authorbethjannery.wordpress.com/.
To purchase from Amazon: http://www.amazon.com/Beth-Jannery/e/B00KMA2HDQ/ref=sr_ntt_srch_lnk_1?qid=1422824572&sr=8-1#
From Barnes & Noble: http://www.barnesandnoble.com/w/finding-grace-again-beth-jannery/1120879879?ean=9781629891866
On Kindle:
http://www.amazon.com/Finding-Grace-Again-Beth-Jannery-ebook/dp/B00QPMO07Q/ref=sr_1_1?s=digital-text&ie=UTF8&qid=1422927259&sr=1-1&keywords=beth+jannery
On Nook: http://www.barnesandnoble.com/w/finding-grace-again-beth-jannery/1120879879?ean=9781629891866