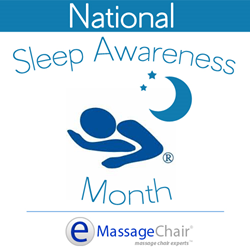 Each month Emassagechair takes a look at leading issues so they can help promote different aspects of health and wellness, and healthy living to all Americans
Las Vegas, NV (PRWEB) February 27, 2015
Leading massage chair retailer Emassagechair.com is known for helping bring health and wellness to Americans nationwide. Each month they take a look at leading issues and help promote different aspects of health and wellness, and healthy living. In the month of March they will be recognizing National Sleep Awareness Week. National Sleep Awareness Week starts by bringing awareness to the time change that occurs as part of Daylight Savings. This year Sleep Awareness Week will start on March 2nd, and last until March 8th when Americans will turn their clocks forward one hour. The goal of Sleep Awareness Week is to promote the importance of sleep and to help people get prepared for the time change. The American Massage Therapy Association also recognizes the importance of getting proper sleep and has conducted many studies to help improve sleep. The AMTA in 2012 has estimated that 50-70 Americans experience sleep issues that can affect their health. As the pace of life speeds up it is ever more important to practice healthy rituals to improve rest. Both the AMTA and the Sleep Foundation offer recommendations.
Among some of the more common recommendations for healthier sleep, the Sleep Foundation recommends daily exercise, avoiding long naps, and practicing relaxation rituals. The Sleep Foundation also points towards other more lesser known practices, like avoiding alcohol and cigarettes, evaluating your sleeping environment (making sure its an area where you can remain comfortable), and trying to go to sleep and waking up at the same time everyday. These are all practices that can be done without major life changes.
The AMTA also recommends massage to help improve and make the best out of ones sleep. The AMTA did a study that massage actually improves better sleep for people who not only suffer from sleep deprivation but also many other chronic diseases. Massage has been shown to have a significant impact on improving sleep in people that suffer from Fibromyalgia, Insomnia, Migraines, and Lower Back pain – just to name a few. With all the studies available it's no surprise that the healing power of touch can help promote sleep. What's really surprising is how accessible the everyday person can benefit from massage.
Emassagechair.com brings a wide range of massage chairs, handheld massagers, and massage information to people across America. They also provide expert advice on all the different products they carry. Emassagechair also helps shoppers keep up to date on the latest products like the new Luraco iRobotics 7 that is scheduled for release in Q2 2015. The new iRobotics 7 will have many features that shoppers will be looking for, like a touch screen remote, 3D massage roller, Intelligent Sensor for body scan profiling, as well as having the high quality manufacturing standard from being assembled in the USA.
Not only does Emassagechair offer expert massage chair advice, but they will also be able to recommend the best chair to meet your budget. Emassagechair prides themselves on being the massage chair experts, and wants to bring their expertise and healthy products to all Americans. Any shopper can find the right product at the right price to help promote their own sleep and rest cycles.
To learn more about how massage chairs can benefit your everyday life you can visit the Emassagechair.com Blog. To find all the answers you need when shopping for a massage chair, contact them at 888.360.9996 or email them at support-@-emassagechair.com.