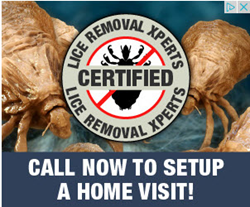 Miami, FL (PRWEB) February 27, 2015
Local lice removal service reports that cases of head lice are on the rise, particularly in the areas of Pinecrest, Key Biscayne, Coral Gables, Miami Beach and Aventura, and parents are naturally frantic and frustrated as they attempt to isolate and eradicate the problem.
Among tweens and teens, it seems that the common "selfie" photograph may be partly to blame. As kids put their heads together for smartphone photos, they create the kind of head-to-head contact that can allow for the spread of head lice. According to a Jan. Health24.com article, selfies could have some itchy consequences.
According to Lice Troopers owner and operator, Arie Harel, smartphones, and the selfies kids take on them, have contributed to the rise in cases of head lice in recent years. While parents will probably not be able to stop kids from taking these pictures of themselves, they can help avoid the nightmare of head lice by encouraging kids to keep a little bit of distance from each other when they huddle in for the photograph. Keeping long hair tied back in braids, a ponytail or a bun is another easy way to prevent the kind of contact that allows the bugs to pass back and forth.
If kids do end up with a case of lice, early detection and removal is key to keeping the problem at bay and getting rid of it as soon as possible. Parents in southern Florida can seek the professional lice screening and all-natural head lice removal at one of two Lice Troopers locations: 2100 Ponce de Leon Blvd, Coral Gables, Florida, 33134 or 1005 Kane Concourse, Suite 212, Bay Harbour Islands, FL 33154. For added convenience, Lice Troopers also provides treatment in-home, or on-site at another chosen location.
Lice Troopers is the all-natural, guaranteed Head Lice Removal Service™ that manually removes the head louse parasite safely and discreetly in child-friendly salon settings, or other chosen location. Providing safe solutions for frantic families, the Lice Troopers team has successfully treated thousands of families nationwide, with services widely recommended by pediatricians and reimbursed by many major health insurance carriers, flexible spending accounts and health savings accounts.
For more information, contact:
Jennie Harel, President
licetroopers(at)gmail(dot)com
800.403.5423