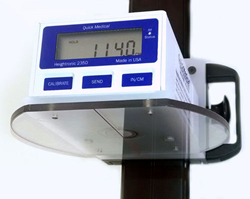 Issaquah, WA (PRWEB) March 03, 2015
In 2014 QuickMedical launched an update of its flagship product the 235D Heightronic digital stadiometer. Today QuickMedical announces the release of new videos showing operation, calibration, and installation of the digital height rod.
The videos are designed to show users how to easily install and measure height with the stadiometer. While not a replacement for the operation manual, the videos give a clear picture of the ease of operating the 235D. Customers are invited to review the videos on the QuickMedical website or QuickMedical's YouTube page.
The 235D Heightronic innovates the original design with a new easy-glide, pressure sensitive headpiece. This headpiece automatically captures measurement at a pre-determined downward pressure on contact with the patient's head.
"Customers have asked for a system in which downward pressure from the headpiece could be standardized, so we have incorporated the auto-sense feature," said Scott Hanna, QuickMedical CEO. "The success of the 235 Heightronic digital stadiometer has always been based on our ability to meet the customer's height measurement needs."
The 235D Heightronic stadiometer has a wired USB interface as well as wireless Bluetooth and Wi-Fi module options for EMR.
The full-length stadiometer can measure virtually infinite height ranges when calibrated with the new extended calibration tool. The 235D Heightronic maintains the original stadiometer's gold standard digital accuracy and precision and does not require baseboard removal for installation.
"The 235D Heightronic digital stadiometer is the realization of our customers requests for a digital height measurement system that fits their unique requirements."
About QuickMedical:
QuickMedical is a leader in the distribution and sale of medical equipment and supplies. With great pricing, same day shipping, and a best price guarantee, QuickMedical has the professional medical equipment used by medical and healthcare professionals in their facilities everyday. In 2013 QuickMedical expanded services to include QuickMedical GS as a full division of QuickMedical. Now, federal government customers can order any of over 12,000 items on our FSS/GSA contracts directly from QuickMedical Government Sales.