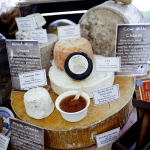 "The festival is an outstanding opportunity to try dozens of amazing artisan cheeses and to connect with the people behind these award winning products," states Tom Bivins, Exec Dir of the VT Cheese Council.
Shelburne, VT (PRWEB) March 02, 2015
WHAT: The 7th Annual VT Cheesemakers' Festival – named in Fodor's Top 10 Best U.S. Summer Food Festivals, is a celebration of cheeses, artisan foods, craft beers, local wines – and the people who make them. Over 150 cheeses from more than 40 Vermont cheesemakers as well as dozens of artisan food producers and local beer, wine and spirits producers will all be gathered for this wildly popular, perennially sold out event.
WHEN: Sunday, July 19, 2015 11:00 a.m. - 4:00 p.m.
WHERE: Once again the spectacular Shelburne Farms Coach Barn will be the location for this event.
WHY: The Festival is a chance for people to connect with the farmers and cheesemakers behind the cheeses they love, to discover new cheeses and to reconnect with old favorites.
HOW: Tickets are $50 per person and include full access to all festival events, including workshops, demonstrations, and beer and wine tastings. To order tickets visit vtcheesefest.com
OTHER INFO: The Vermont Cheesemakers' Festival is presented by the Vermont Cheese Council. For more information, please visit http://www.vtcheesefest.com or call 802-451-8564. Follow us on Facebook to get the latest updates, recipes, news from the cheesemakers and more on all things artisan cheese. Facebook.com/vtcheesefest.com.