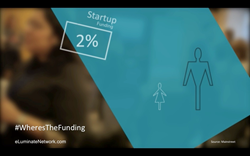 Stats about the entrepreneurship funding gap between men and women are staggering
NEW YORK (PRWEB) March 03, 2015
Statistics about the funding gender gap have been popping up more frequently on online blogs, entrepreneur conferences, and social media. What's behind the newfangled interest in this issue?
With women entrepreneurs receiving only 5% of venture capital funding (Inc. Magazine) and just 2% of total funding from outside equity (MainStreet), the issue is clearly not new, but it has yet to garner mainstream attention.
Though the topic may seem new to some, many women entrepreneurs experience the effects of the funding gap first hand. Access to capital is often a significant barrier for some women in the start-up and early stages of their ventures. And, based on the data, there does not appear to be any reversal of the trend.
For example, male founders are 40% more likely to get venture capital funding than female founders (Fast Company), and men get six-times more funding than women (MainStreet).
It's hard to pinpoint why there isn't greater awareness about the funding gap, among a wider audience. However, within entrepreneurial circles, dialogue about this issue often narrowly focuses on just one or two reasons why women entrepreneurs are impacted.
In an upcoming documentary, eLuminate Entrepreneur Network hopes to ignite the debate about access to capital for women entrepreneurs and highlight possible causes and potential corrective measures.
The Road To the Shark Tank is a documentary that explores the funding gender gap and the discrepancy between the rates that women entrepreneurs succeed at getting funded compared to their male counterparts.
eLuminate founder and CEO, Sharon Brown, notes, "It's time to take a deeper look into how funding decisions are made, expose prevailing funding myths, and explore funding successes and failures."
"I don't believe there is a simple answer, or should the issue get reduced to just 'us versus them'; we need everyone's perspective to find a better way forward," says Brown.
Currently starting production, eLuminate recently launched a Kickstarter campaign (http://kck.st/1zA0hsD) to fund the project. The company is no stranger to crowdfunding, having produced the first-ever crowdfunding conference for entrepreneurs in 2012. Also, Brown has supported several Kickstarter projects.
"The stats about the funding gap between men and women are staggering, and we have received a lot of verbal support for this project. But right now, we need financial support to make this project a reality," says Brown.
The deadline for the The Road To The Shark Tank Kickstarter project is April 5, 2015, and the documentary will be released at the end of the year.
About eLuminate Network:
eLuminate is a global network that produces content for entrepreneurs to help startup and grow their businesses.