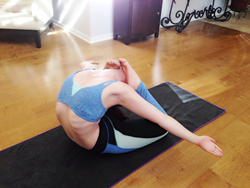 Las Vegas, NV (PRWEB) February 27, 2015
BaliniSports is expanding its presence in the fitness community by collaborating with the online fitness social platform FITMOO. The collaboration is aimed to help health-minded people discover the quality products and holistic philosophy behind BaliniSports. Users of FITMOO will be able to connect with the brand in an intimate way and discover apparel that will enhance their workouts.
BaliniSports is a yoga apparel brand that uses environmentally friendly and socially conscious methods to produce its line in the United States. The brand encourages women to embrace a philosophy of freedom and empowerment that starts on the yoga mat and reaches every aspect of life. The brand's colorful, durable tank tops, bras, bra extensions, shorts, and pants are designed using cutting-edge fabric engineering and anti-moisture wicking technology.
"We are so excited to introduce our brand to the ever-growing FITMOO community," said Ada Hung, founder of BaliniSports. "We know that FITMOO users are engaged, motivated people who are always seeking the latest and greatest ways to push their minds and bodies to the next level." BaliniSports offers apparel options that facilitate performance during yoga and gym sessions of the highest levels of intensity. The brand's complete apparel line can also be accessorized to create quick and convenient outfits that can transition from the gym to everyday life. "The fact that our apparel stays cools and moisture-free under pressure makes it ideal for anybody who lives an active lifestyle because they don't have to always worry about walking around with a change of clothes."
FITMOO offers a complete social platform where fitness-minded people can engage with other users, discover the latest fitness products, contribute tips, and learn about the latest trends in nutrition and work outs. It provides users with a comprehensive portal to all things related to wellness. The website is quickly becoming one of the most popular spots on the Internet for health and fitness information. It is distinguished from traditional fitness news websites because it provides organic, user-driven information that is constantly in motion.
"We've already sponsored national yoga tournaments and collaborated with other popular websites to promote the benefits of yoga, and this new collaboration is one more way for us to help women from all over the world celebrate their bodies and embrace life's possibilities," said Hung. "We're on a mission to help women train better and live better with help from FITMOO and BaliniSports."
Current users of FITMOO can already connect with BaliniSports and browse yoga apparel using their current accounts. New users can set up a free account and search for BaliniSports to get involved. Additional information can be found on BaliniSports.com.