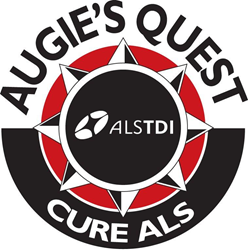 San Clemente, CA (PRWEB) March 02, 2015
Augie's Quest today announced its 10 Year Reunion Bash, set to take place on Friday, March 13, 2015, at the JW Marriott, located at 900 W Olympic Blvd, Los Angeles, CA 90015. The event is held in conjunction with the 34th Annual IHRSA Tradeshow and Convention.
Proceeds will go towards the ALS Therapy Development Institute (http://www.als.net), the world's first and largest non-profit biotech focused 100 percent on ALS research, with the goal of finding effective treatments and a cure for Amyotrophic Lateral Sclerosis (ALS).
The event will feature entertainment from Grammy-nominated recording artist, Gavin DeGraw, with a special performance from John Ondrasik of Five for Fighting. The Bash will be hosted by Natalie Morales of NBC's The Today Show.
The 10 Year Reunion Bash for Augie's Quest will provide guests with a fun, high school-reunion theme and will highlight the past 10 years of successful fundraising put on by the organization, in hopes of bringing donations to an all-time high to ultimately end the affects of ALS. The event features a silent and live auction with one-of-a-kind packages. The BASH for Augie's Quest is presented by IHRSA, with sponsors including Technogym, The Atlantic Club, The Bay Club Company, Zumba, Newtown Athletic Club, and 24 Hour Fitness.
For tickets and information about the Bash, please visit http://www.augiesquest.org/bash/ or e-mail Rachel Salas at rsalas(at)als(dot)net.
About Augie's Quest
The purpose of Augie's Quest has always been to fund research and drug development aimed at ending ALS, Lou Gehrig's disease. Since 2007, Augie's Quest has raised more than $44 million in support of finding effective ALS treatments- making it the largest individual fundraising program for ALS. All funds raised by Augie's Quest benefit the ALS Therapy Development Institute (http://www.ALS.net), the world's first and largest nonprofit biotech focused 100 percent on ALS research. Support comes from a huge network of national events and promotions, including the BASH for Augie's Quest, Tradition of Hope Gala and widely successful campaigns within the very generous fitness industry, such as the Clubs for the Quest, as well as a hugely innovative joint-fundraising initiative called the ClubCorp Charity Classic which benefits Augie's Quest and other local charities chosen by that networks members directly. For more information, visit http://www.augiesquest.org.
About Gavin DeGraw
Gavin DeGraw is not a stranger to the top of the charts. The Grammy nominated singer/songwriter first broke through with the 2003 release of his debut album, Chariot, which sold over a million copies, earned platinum certification, and yielded three hit singles: I Don¹t Want To Be, Follow Through, and the title-track, Chariot. Gavin's self-titled second album debuted at No. 1 on the digital sales chart and at No. 7 on Billboard's Top 200 album chart in 2008, earning Gavin his first Top 10 album. It spawned the hit singles In Love With A Girl, which Billboard dubbed a rocking homerun, and the gold-certified We Belong Together. In 2009, Gavin released Free as a gift to his die-hard fans clamoring for recorded versions of Gavin's live favorites. DeGraw released his third studio album, Sweeter, in September 2011. The album's first single, Not Over You, co-written with One Republic's Ryan Tedder, reached #1 on the Hot AC charts, was a top 10 hit on Top 40, and was certified double platinum. DeGraw¹s acclaimed, fourth studio album, Make A Move, was released in October 2013 to rave reviews. Shortly thereafter he was nominated for his first Grammy for We Both Know, a song he co-wrote with Colbie Calliat for the 2013 film Safe Haven. FINEST HOUR: THE BEST OF GAVIN DEGRAW was released October 21st via RCA Records. The album features two new songs, including the current single Fire, as well as his most renowned and notable hits to date, including Not Over You, We Belong Together, and I Don't Wanna Be.
For more information visit http://www.gavindegraw.com, facebook.com/gavindegraw, twitter: @gavindegraw