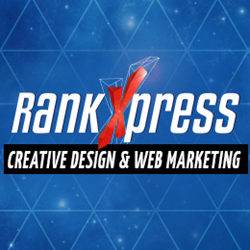 A successful website gives companies a way to be heard; it is more than a stage for products and/or services, but a way to put a face with the name and words behind the mission.
Toronto, ON (PRWEB) February 28, 2015
The online presence of any company could be the bottom line to its success. Overlooking this important aspect of any marketing plan, no matter how large a business may be, could be like putting one foot into the gravestone. Companies that forgo a website are more often overlooked than a company with a website, no matter how much better the quality of the products and services sold. Plain and simple, every company needs a compelling website in order to be successful. The experts at RankXpress understand this need and know how to build a website from the ground up as well as help to spice up an existing website to make it provide the desired results.
A successful website gives companies a way to be heard; it is more than a stage for products and/or services, but a way to put a face with the name and words behind the mission. The right internet marketing strategy will cohesively include a website, appropriate social media platforms and marketing messages found throughout the internet, each of which ultimately lead to the client's website, where the products and/or services can be described and even purchased. The presence of a proper website gives consumers an inside look at the company, its beliefs, its products/services and what others may think of it. Strong knowledge in all of these areas is what has made RankXpress a leader in the world of internet marketing.
RankXpress is a leader in the latest marketing techniques that provide results. Aside from creating compelling social media campaigns that provide awareness and possible viral messages, are the successful pay-per-click advertising techniques used. With a click of the mouse, companies can start making money through their advertisements being strategically placed on the internet to entice more consumers to visit. RankXpress has extensive experience in this successful, yet little used marketing tactic, helping clients to greatly increase internet traffic as well as profits.
A first impression cannot be changed, making it necessary to create a positive image for any company through the use of proper marketing techniques. The internet is not used solely to increase sales, but also to create an awareness of a company and what it stands for. Knowing the proper channels to use and how to use them is essential to success in today's internet marketing world. RankXpress possesses these skills and shares them with every client in order to make businesses everywhere as successful as possible through the use of today's advanced technology.
For more information about the expertise that RankXpress has to offer companies to help create a viable online presence, visit their website at http://www.rankxpress.com or call 888-567-4687.
About Rank Xpress:
RankXpress offers extensive experience and professionalism in today's ever changing world of online marketing. RankXpress has been in business since 2000 and has helped companies everywhere learn to make the most of their abilities by making them visible online through various techniques. Well versed in website design, content creation, social media platforms and pay-per-click advertising, RankXpress has a lot to offer businesses of all sizes that are looking to take the world by storm.