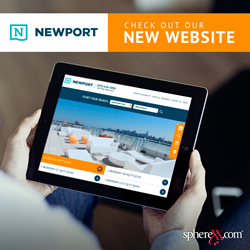 4,574 unique web visitors in the first week. Spherexx.com
DALLAS, TX (PRWEB) March 10, 2015
NewportRentalsNJ.com is instantly engaging. Web guests are greeted with intriguing images that glide across the screen, whether viewed on desktop, laptop, tablet or smart phone. The website is created in a responsive design that provides optimal viewing across multiple devices. The quick load and fast change of stunning video and photography represent a well-engineered optimization feat to enhance user experience throughout the website.
Newport is a city unto itself within Jersey City, a mixed-use waterfront community with panoramic views of the Manhattan skyline. The vast community's features are all shared with flair: per-unit availability, amenities, services, and proximity to neighborhood areas of interest are easily accessed throughout the website's sleek design. Featured listing links are shown on the home page.
Activate the "Apartment Size" and "Move-in Date" dropdown menus and the web visitor is immediately offered a selection of individual units from Newport's thirteen rental buildings that match their search criteria. A map is presented showing pins for each unit's location. Click or press the pin for magnification. Activate "View Details" to see a photographic slideshow of the floor plan, building, and building amenities. Select "More" and see a video of the building's unique features. A prospect can use a rate slide tool to shop by price. Activate the calendar icon on the vertical navigation tab and one can set an appointment to tour an apartment.
Prospects are invited to build their own brochure as they browse available units. They can add a unit to their personalized brochure by clicking an icon on the vertical navigational tab. The brochure is emailed immediately on request and arrives in both PDF and webpage format. It includes photographs of the building finishes and floor plans; and it provides many calls to action and detailed product and community information for ease of communication.
The website then introduces an interactive slideshow of snapshots of the marina, tennis courts, park, fitness center, ice rink, shopping mall, Newport PATH Station, private elementary school, Hudson River Waterfront Walkway, dog run, pet boutique, playground, and a host of restaurants, shops, entertainment and other services. The following horizontal view introduces colorful thumbnails announcing events and special offers for residents, followed by an interactive site plan.
The "Lifestyle" horizontal navigation link leads a prospect to an interactive map of Newport and neighborhood areas of interest, plus video tours, photo gallery, calendar of events, amenities, and a colorful history of Newport. The dropdown menu offers a filtering feature of Yelp listings nearby; the left column provides direct links to services that are within the perimeter of the community.
For residents, the website offers the convenience of a CLICKPAY feature for ease of paying rent. Residents can also login to their accounts to view their balances, request service or technical support. The page provides a newsfeed of communications from the Newport staff: newsletters, photographs, announcements of upcoming events and reviews of past events.
Newport uses advanced customer relationship management software, ILoveLeasing.com® powered by Spherexx.com®. The application allows the staff to manage a huge volume of prospect interactions and review personnel and advertising source performances. It secures lead delivery, categorizes and prioritizes prospect inquiries and coaches leasing techniques by setting up action steps. ILoveLeasing reported the new website has already tripled the number of website lead conversions as compared to the previous website for the same time duration.There have been 4,574 unique website visitors the first week.
The CRM additionally provides a companion broadcast price publishing software, Adkast, which creates ads and updates pricing for Newport's long list of Internet advertising sources. The process eliminates many work hours and errors. All website, software, and other cloud-based services can be accessed with SweetSpotDashboard.com, complimentary companion software from Spherexx.com® that makes clients' desktops portable on tablet or laptop. It also includes interactive leasing and closing tools for prospects to access, a service center for residents, plus a newsfeed of summary data for website statistics, ILoveLeasing.com activity and other available updates.
ILoveLeasing.com integrates with Newport's property management accounting software (Yardi) so that both the CRM and the accounting software are mutually updated once an event takes place. The CRM automatically acquires guest cards, assigns priorities, and provides a library of pre-written email correspondence, interactive graphic brochure, reminders and advanced, real-time reporting on local and corporate levels.
Behind the captivating stage, the content management system is subterranean ingenuity. Staff members can update and edit voluminous information: create specials, edit page content, floor plans and brochure, create or adjust amenity locations on the map, post news, link landing pages and edit colors. Users can create new sections in the website, refine search terms for each page, add events and upload images and downloadable documents such as recipes or flyers.
About Newport, NJ
Minutes from Manhattan via the PATH train, ferry or car, and fronting on the Hudson River, Newport is currently home to more than 15,000 residents living in 13 high-rise rental towers and 3 condominium buildings. The community offers shopping, fine dining, parks, and leisure activities for those residing and working there. Eight state-of-the-art Class A office towers provide more than five million square feet of office space to more than 20,000 professionals. Convenient on-site neighborhood features include a preschool and private elementary school; Newport Swim and Fitness Center; Newport Centre Mall; and national retailers such as Macy's, Target, H&M, and Coach. Newport's attractive Hudson River Waterfront Walkway has direct pedestrian access to Downtown Jersey City and the Hoboken New Jersey Transit Terminal. For more on Newport visit http://www.NewportRentalsNJ.com.
About Spherexx.com® Ad Agency | Software Development | Business Intelligence
Spherexx.com® is recognized as an established leader for website, Internet marketing and software development services since 2000. With offices located in Tulsa, Dallas, and Houston, the company has been distinguished as one of INC5000's fastest growing companies. Spherexx.com® is a recipient of International Summit Creative Awards for creative and communication excellence and Internet Advertising Competition (IAC) awards for best real estate website and for outstanding websites. Spherexx.com® is also a Webby Honoree and has also received W3 Video awards from the Academy of Interactive and Visual Arts for B2B branded content and promotional branding. Multi-Housing News awarded two Spherexx.com ® products with Technology Choice Awards: I Love Leasing for Lead Management and Rent Push for Revenue Management for superior service and innovation.
Spherexx.com® offers a wide selection of professional services including web design and development, touchscreen kiosks, Internet lead generation tools, online advertising, consulting, advanced mobile technology, apartment lease-up marketing consulting, and search engine performance. The company also provides branding services, video/multimedia production, print media, and copywriting, as well as website and email hosting, database solutions, pay per click, e-commerce solutions and custom programming.
The company has developed CRM (customer relationship management) products, marketing and lead generation tools that allow clients to better manage and convert leads to leases and sales and increase property values. These applications are branded under ApartmentWebsites.com™, Messagekast.com™, ILoveLeasing.com®, MarketSurveyTools.com™, RentPush.com® Revenue Management Asset Optimization and RentIntel™ Business Intelligence. Spherexx.com® provides web-based prospecting, marketing, advertising management, and support services.