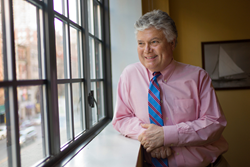 Seattle, Washington (PRWEB) March 02, 2015
Dr. Edward Hallowell, regularly referred to as the world's leading expert on ADD and ADHD, will present "Unwrapping the Gifts: A Strength-Based Approach to ADHD" at Town Hall Seattle on Wednesday, March 11 at 7:00PM.
In recent years, an increasingly large number of children have been diagnosed with ADHD— millions are living with some form of the disorder. According to Dr. Hallowell, those with symptoms have as many positive benefits as they do negative. At the event, Hallowell will offer insight into these "turbo charged" minds and explain that, by emphasizing the positives and unlocking the hidden strengths of each individual, it is possible to master the "secret powers" of ADHD (curiosity, creativity) and avoid the negatives (distraction, lack of behavioral control).
Dr. Hallowell is a child and adult psychiatrist as well as the founder of the Hallowell Centers, including the Hallowell Todaro ADHD Center which is the first ADD/ADHD center in Seattle. The center's mission reframes the diagnosis of ADHD as a brain difference—one often accompanied by unique gifts.
Hallowell is the author of 20 books including the ground-breaking New York Times best-seller, Driven to Distraction. Targeted to adults, his most recent book, Driven to Distraction at Work, provides a set of practical and reliable techniques to show how to sustain a productive mental state in the workplace.
For more information regarding Dr. Hallowell's books or other public speaking opportunities, contact Tori Marra at The GUILD Agency at 646.837.8808 or info@theguildagency.com. For more information about the Hallowell Todaro Center, contact the Center at 206.420.7345 or info@hallowelltodarocenter.org.