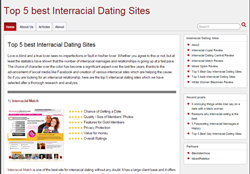 Los Angeles, California (PRWEB) March 01, 2015
Interacting with the local Press, a representative of the site said, "In the recent years, the online interracial dating segment has witnessed the launch of new websites. While this is certainly a very good thing as it shows the increasing trend of interracial dating, it made things pretty complicated for people seeking a dating site that suits their diverse needs. The availability of a genuine review site could work wonders for people. Prospective users of interracial dating sites would not only be able to know more about the features but also get information on subscription options." Interracial-Dating-Sites.com incorporated detailed reviews of some of the leading interracial dating sites on the market. The website claims to employ a dedicated team of experts that boast of immense experience in the field of interracial dating. The reviews give insights into every aspect of the dating site, such as chances of finding a date, value for money, subscription charges, and efficiency of search algorithms in addition to effectiveness of communication features, among others.
According to dating experts, review sites such as Interracial-Dating-Sites.com have played a crucial role in helping people find the right interracial dating website that matches their tastes. This site not only makes it convenient for people to compare different sites in the same segment but also give them a reason to choose one over another.
Moreover, as Interracial-Dating-Sites.com does the job of helping users choose the right site. They can focus on the essentials of dating and impressing their potential partner.