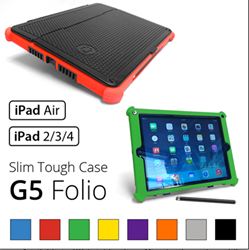 This offer is available for all iPad models – 2, 3, 4, Air, Air 2, Mini, Mini 2, Mini 3. Pair it up with a wire keyboard for standardized Smarter Balanced or PARCC tests
Chicago, IL (PRWEB) March 04, 2015
Sunrise Hitek is extending reduced pricing on the popular G5 slim tough case for iPad in their üuber store https://www.sunrisehitek.com/product/ipad-slim-tough-case-g5. Price on single units has been reduced by 15%, save even more on bulk orders. This offer is available for all iPad models – 2, 3, 4, Air, Air 2, Mini, Mini 2, Mini 3. Pair it up with a wire keyboard for standardized Smarter Balanced or PARCC tests. All items are in stock for immediate shipping.
Their G5 Slim Tough Case https://www.sunrisehitek.com/product/ipad-slim-tough-case-g5 features an additional armor plate folio cover that completely eliminates broken screens. The G5 case is compatible with many charging carts, including the Bretford, Anthro, Datamation, Ergotron, and others once the folio cover is removed. Like previous generations, this case is available in (8) bright colors and mixed-color orders still receive bulk quantity discount. Optional full-color customization with logo artwork and tracking barcode is a great option for schools and sales representatives.
About Sunrise Hitek
Sunrise Hitek's üuber store, formerly known as iGear, is a leading maker of protective gear for Apple's iPad. The brand changed to üuber when the company starting developing cases for other devices, such as the MacBook, Chromebook, and Samsung devices. Sunrise Hitek Group, LLC, owner of the üuber brand, also operates Sunrise Digital, a leading digital printing company based in Chicago. As a G7 Qualified Master Printer, Sunrise is uniquely qualified among protective gear makers to offer a wide array of customization options, ensuring the most consistent and accurate color reproduction. Sunrise is an Inc. 5000 company established in 1988 and employs the most advanced equipment and technology, such as G7-certified HP Indigo and UV flatbed presses, and digital die-cutting, to create best-in-class products. A privately-owned enterprise, the company is based in Chicago and sells products worldwide.