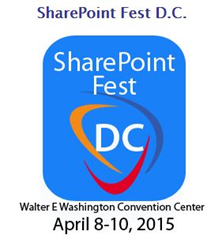 A unique conference that brings together education and training in SharePoint, with a local flavor added to the experience
Boston, MA (PRWEB) March 04, 2015
The CardioLog Analytics team is proud to announce they will be attending SharePoint Fest in Washington, D.C from April 8th through the 10th.
SharePoint Fest- DC will feature a variety of sessions created for SharePoint administrators, software developers, information architects, and knowledge workers. Additionally, some of the top SharePoint thinkers will be speaking on exciting topics relating to the SharePoint community.
CardioLog Analytics, Intlock's solution for SharePoint reporting and analytics, will be demonstrated at the conference. CardioLog Analytics is the only web analytics solution designed for SharePoint (versions 2013, 2010, 2007 and 2003 and SharePoint Online.), Yammer, and Sitrion. It enables users to improve the usability of their intranet, drive portal collaboration, boost their ROI and enhance the overall productivity of their business.
About SPFest
SharePoint Fest – DC offers a multitude of technical classes and workshops – taught by Microsoft Certified Trainers, Microsoft engineers and Microsoft MVPs – covering Enterprise Content Management, Power Users, Social SharePoint, Business Value, Implementation/Administration, Office 365, Workflow, Business Intelligence, Special Topics & SharePoint Development. Attendees may choose one learning track or mix & match based on what content best meets their organization's current needs.
About Intlock:
Intlock has been a leader in the field of SharePoint analytics since 2005. Our products - SharePoint Marketing Suite and CardioLog Analytics - provide comprehensive web-analytics and online marketing solutions for enterprise-level websites and intranet portals. Intlock gives you a deep insight into the performance of your web and portal initiatives through testing, tracking and targeting, ultimately enabling you to optimize your site's impact and maximize the return on your investment.
Intlock is led by a team of experts in the fields of application development, knowledge management, web analytics, portal monitoring and control, and software engineering. Intlock's products and solutions are installed in organizations from various industries, including financial services, telecommunication, entertainment services and others.