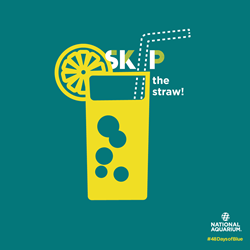 "Everything we do on-land has a downstream effect," said Eric Schwaab. "By participating in our 48 Days of Blue challenge, we hope people begin to realize how simple it can be to improve and preserve our amazing blue planet for generations to come."
Baltimore, Maryland (PRWEB) March 02, 2015
Did you know that half of the oxygen we take in on a given day comes directly from the oceans? Our oceans are the life-sustaining lungs of our planet and to kick off this Earth Day, the National Aquarium is reminding the public it's not only about going green, it's about going blue, too.
In the weeks between Earth Day (April 22) and World Oceans Day (June 8), the National Aquarium's 48 Days of Blue campaign will challenge participants to make small changes in their daily lives that can significantly impact the health of our oceans and our planet.
"Everything we do on-land has a downstream effect," said Eric Schwaab, National Aquarium Chief Conservation Officer. "By participating in our 48 Days of Blue challenge, we hope people begin to realize how simple it can be to improve and preserve our amazing blue planet for generations to come."
Throughout 48 Days of Blue, participants will be asked to complete one small challenge each day, which will be delivered via email every morning. Various challenges include skipping the straw in your drink, shortening your shower by two minutes, unplugging electronics for 20 minutes or planting a tree. Participants will be encouraged to share their experiences and ask questions on social media by using #48DaysOfBlue.
Challenge-related facts:

Approximately 500 million plastic straws are used and disposed of in the U.S. every day. That's enough to fill 127 school buses.
Americans use an estimated 100 billion plastic bags each year. Floating in the ocean, these bags are often mistaken for jellyfish by unassuming sea turtles and other marine species.
Transportation accounts for one-fourth of all greenhouse gas emissions in the United States every year. An average passenger vehicle emits 5.1 metric tons of CO2 per year.
Only 2.5 percent of our planet's water is freshwater, while a staggering 97.5 percent is saltwater.
A bathroom faucet runs at approximately two gallons of water per minute.
It takes an estimated 1,850 gallons of water to produce a pound of beef.
National Aquarium is encouraging other organizations to join the 48 Days of Blue movement and help raise awareness for our world's aquatic treasures.
National Aquarium
The National Aquarium is a nonprofit organization whose mission is to inspire conservation of the world's aquatic treasures. It champions environmental initiatives by engaging with visitors, volunteers, education groups and schools to actively participate in the preservation of the world's natural resources and living systems. The National Aquarium delivers meaningful experiences through its living collections; science-based education programs and hands-on experiences in the field from the Chesapeake Bay to Costa Rica; and partnerships and alliances with like-minded organizations around the world. For more information on the National Aquarium, visit http://www.aqua.org.