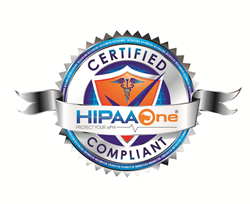 HIPAA One® empowers individuals to conduct their own HIPAA security risk analysis and discreetly display compliance on their website. - Steven Marco, President of HIPAA One®
Lindon, Utah (PRWEB) March 03, 2015
HIPAA One®, whose simplified HIPAA Security Risk Analysis software solution is now being used in all 50 states, announced today the release of the HIPAA One® Certified Compliant Seal, further empowering individuals manage their HIPAA Security Requirements and prove compliance to the outside world. For Covered Entities, Business Associates and other organizations looking to use HIPAA as an authoritative source for basic security controls and due-diligence, HIPAA One® provides the industry's simplest, most automated and affordable online solution for all security needs.
Steven Marco, President of HIPAA One® states, "Our clients have been requesting a way to demonstrate their HIPAA Security efforts to the outside world while maintaining privacy on their internal HIPAA compliance details. In response, we developed the HIPAA One® Certified Compliant Seal that can be displayed on their website. When visitors to their website click the seal, it will validate their HIPAA Security efforts and provide a Certificate of Completion issued directly from our secured website."
When displaying the Certified Compliant Seal on your organization's Web site, visitors to your website are assured the organization has conducted a HIPAA Compliance Gap Assessment and Security Risk Analysis per 45 CFR 164.308(a)(1)(ii)(A) under the Office of Civil Rights (OCR) Guidance of the HIPAA Security Rule.
About Modern Compliance Solutions® and HIPAA One®
Modern Compliance Solutions provides premier onsite consulting services for HIPAA/HITECH compliance, penetration testing and security strategies for Clinics, Hospitals and commercial entities.
Designed from the ground-up for health care, HIPAA One® is our evolved version of the previous HHS Spreadsheets, HSR Toolkit and SRAAT tool. Using a clean, paper-based workflow, HIPAA One®'s process is based on compliance with the 78 HIPAA Security Citations included in the OCR's Audit Protocol, encompasses additional locations and ePHI systems into the assessment. HIPAA One®'s automated risk-analysis and reporting components are designed to follow NIST methodologies assuring its clients meet mandated HIPAA security requirements. Performing a periodic HIPAA gap analysis and risk assessment using HIPAA One® will help proactively prepare your organization for an OCR investigation while ensuring risks are identified and reasonably addressed, guaranteed.
Visit us to learn more about HIPAA One®, take our free Quiz, and get started today at http://www.hipaaone.com.