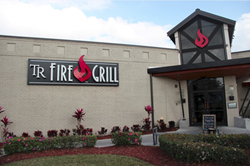 Our newest concept puts a modern-spin on artisanal food, serving innovative menu items in a comfortable atmosphere that will turn TR Fire Grill into an instant neighborhood favorite
Orlando, FL (PRWEB) March 03, 2015
Romacorp Inc., parent company of Tony Roma's restaurants, announces the launch of its newest concept, TR Fire Grill, a chef-inspired American bistro with innovative dishes from globally recognized Chef Bob Gallagher. Located near the Orlando International Airport on South Semoran Boulevard, a second TR Fire Grill is planned to open this summer in Winter Park, Fl.
"Working your way around the menu, you'll find we're taking a new approach to some of the classics, using fresh, locally-sourced ingredients to create memorable dining experiences for our guests," said Chef Bob Gallagher, Senior Vice President of Culinary and Purchasing for Romacorp, Inc. "We created the menu so our guests could spoil themselves with craveable flavors every step of the way, from our signature cocktails to our delicious handcrafted desserts, and we're excited to bring this same passion to our new Sunday brunch offering beginning March 22."
At TR Fire Grill, guests can choose from menu items using the highest quality, freshest seasonal produce from farms in Central and South Florida. Steaks are fresh, never frozen, aged and then hand cut daily in the restaurant. The filet and NY strip are from ranches that follow the strict guidelines of the NatureSource® Natural Beef program, known for its pasture-raised, grass-fed beef produced without antibiotics, hormones or GMOs.
Smoking and grilling are essential to the experience, and TR Fire Grill proudly smokes all of their meats and vegetables in-house daily using hickory wood. Combined with the wood burning grill and house made sauces, this care and attention to detail gives you the most authentic, robust flavor that you can find.
The bar menu features the very best in American craft beer, wine, bourbon and artisanal cocktails. Bartenders age tequila and pisco in small oak barrels, and take the craft of making the perfect cocktail to a new level by grilling fresh fruit and infusing the flavor into premium liquors in glass vessels at the bar.
"Our newest concept puts a modern-spin on artisanal food, serving innovative menu items in a comfortable atmosphere that will turn TR Fire Grill into an instant neighborhood favorite," said Brad Smith, Executive Vice President and Chief Operating Officer for Romacorp, Inc. "We appreciate the support of our loyal guests who've dined with us as we developed this new concept, and it's the feedback from those guests, and from our team members, that has helped this concept grow into the amazing dining experience it is today."
Romacorp's second TR Fire Grill will be located in the heart of Winter Park, Florida in the Ravaudage development at the corner of US 17-92 and Lee Road. Construction on the new building has started and the restaurant is planned to open this summer.
About Romacorp, Inc.
Romacorp, Inc., is the parent company of Tony Roma's restaurants, the world's largest casual dining concept specializing in ribs. Headquartered in Orlando, Florida, Romacorp, Inc. has more than 150 restaurant locations in more than 30 countries and is one of the most globally recognizable names in the industry. The first Tony Roma's restaurant opened more than 40 years ago in North Miami, Florida.
Romacorp, Inc. also operates their new TR Fire Grill concept, a chef-inspired American bistro in Orlando, Florida with an additional location planned the summer of 2015 in Winter Park, Florida. For more information about Romacorp, Inc. and Tony Roma's, visit http://www.tonyromas.com/. For information about our new TR Fire Grill concept, visit http://www.trfiregrill.com/.
Media Contact:
Stephanie Kolp
Uproar PR for Romacorp, Inc.
321-236-0102 x226
skolp(at)uproarpr(dot)com