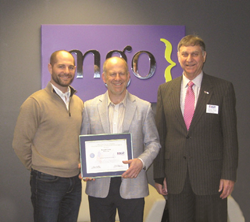 We have a great team at MGO and it was a group effort to keep the operations moving forward while Rick was gone.
Beachwood, OH (PRWEB) March 03, 2015
Ron Gross, CEO of retirement and asset management firm MGO, Inc., was recently honored with a Patriot Award from the Employer Support of the Guard and Reserve (ESGR), an office of the Department of Defense. The Patriot Award is awarded to individuals who provide outstanding support to their employees who also serve in the military.
Rick G. is a U.S. Navy Reservist and an investment analyst at MGO. He nominated Gross for the award. Having joined MGO in 2010, Rick has found the company extremely supportive of his military service during his deployment. While Rick was deployed, MGO paid his differential salary the entire 10 months of his deployment. In addition, MGO paid for landscaping and babysitting services for his wife to relieve any additional burdens on his family.
The Patriot Award was created by the ESGR to recognize individuals who contribute excellent support and cooperation to their service member employees. Mr. Gross was nominated, and given, the award for his outstanding support of Rick.
In a ceremony held at MGO's office, retired USAF Lieutenant Colonel Chaker Fadel, who serves as the ESGR Ohio Employer Outreach Coordinator, presented the Patriot Award to Gross.
"When Rick was deployed, my partners Paul Orchosky, Michael Moskal and I discussed the best way to help Rick and his family. We decided to eliminate the financial burden by paying the difference between his military pay and his normal MGO pay. That way, his monthly income would not change. We also offered to pay for landscaping and babysitting services," said Gross. "The MGO staff also pitched in to cover his corporate day to day functions. We have a great team at MGO and it was a group effort to keep the operations moving forward while Rick was gone."
After receiving the Patriot Award, Gross signed a Statement of Support on behalf of MGO, which committed the organization to fully recognizing, honoring, and supporting service members at every level of the firm. MGO will enforce a culture that provides leadership the tools needed to manage employees who serve in the Guard and Reserve, and commits to encourage the hiring of active service members and veterans.
For more information about ESGR Outreach programs, or to nominate an individual for a Patriot Award, visit ESGR at http://www.esgr.mil/
For information on MGO's suite of services, including retirement planning and investment services, visit http://www.mgo-inc.com/
About MGO, Inc:
Established in 1939, MGO provides "Total Solution" retirement plan consulting and administration services. We cover all aspects of your retirement plan, from creative plan design solutions to turnkey administration to employee education programs. In addition, MGO offers personal wealth management services to individual investors, including MGO Signature, our unique process designed to help high net worth individuals define and achieve their financial goals. For the last 75 years our clients have looked to MGO to help them prepare for a comfortable retirement. For more information please visit: http://www.mgo-inc.com.