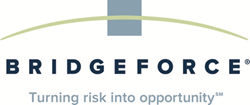 Chadds Ford, PA (PRWEB) March 03, 2015
Bridgeforce reacts to alarming statistics from the Identity Theft Research Center that 675 million data records were compromised in 2014. A Bridgeforce special report outlines the impacts of fraud and provides a primer on types of attacks, and specific considerations and tactics that merchants and financial institutions must implement in order to develop and maintain a comprehensive fraud program. When consumer data is compromised the consumer, merchant and the bank all must increase their vigilance and efforts.
The key, according to the Bridgeforce report, is to be prepared for breaches by being proactive and covering all the bases. Critical elements to combat fraud and data breaches are detailed in the report, including:

Major causes of fraud--all technological--including point of sale malware and tampering and payment processor data breaches
Pecuniary impacts on financial institutions resulting from fraud losses and significant increases in operational spending
Importance of remediation procedures especially due to reputational damage that breaches can cause merchants and banks
Critical detective controls ensuring that strategic and operations teams work in lockstep managing POS, compromise and technological strategies, as well as detection, fraud claims and overall reporting.
"Fraud and data breaches are issues that all financial institutions--no matter their size--need to be better prepared for," said Brian Reiss, President of Bridgeforce. "Financial institutions are realizing that it's not "if" it's "when" and are seeking comprehensive solutions to both detect and prevent fraud issues before they impact their business and customers."
Bridgeforce engagements have covered end-to-end fraud management including: strategies and solutions, operational processes, regulatory compliance and controls and training. The Bridgeforce Financial Fraud Team's focused capabilities includes leadership from Cris Bennighoff and David Sanders who together have decades of experience in fraud and fraud recovery operations including positions in Bank of America's Global Fraud Prevention and Capital One.
About Bridgeforce
Bridgeforce is a specialized multi-national consulting firm serving a variety of clients involved in almost all aspects of the consumer and small business lending and payments space. Over 75 percent of Bridgeforce consultants come directly from client-side leadership positions across multiple parts of the credit lifecycle. Combined with subject matter expertise in operations, technology, strategy and regulatory issues, Bridgeforce has the knowledge and experience to make the hard choices in developing and implementing best-fit solutions that are both achievable and lower the risks of execution to ensure sustainability. Bridgeforce success can be attributed to a culture fostering innovation and evolving experienced-based best practices recognized within the industry. For more information, visit http://www.bridgeforce.com.