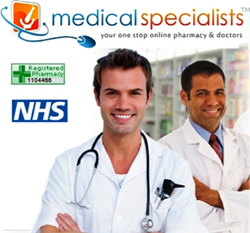 Medical Specialists® Pharmacy are delighted to announce Lumigan eye drops are now available to patients who want to grow longer and more luscious eyelashes. No longer will only the famous celebrities be able to afford the product...
Bury, Lancashire (PRWEB UK) 3 March 2015
In the past, women wanting longer, thicker more prominent eyelashes were probably put off by the high prices charged from certain websites for the wildly popular treatments Lumigan or Latisse. These products are so effective in fact that there are countless celebrity users and endorsers that include Brooke Shields, Claire Danes, Helen Mirren, Jenny McCarthy and Mandy Moore, to name just a few, and millions more around the world have been desperate to get their hands on the products in order to have boosted eyelashes just like their favourite celebrities.
In fact, even The Telegraph published part of an interview with Academy Award winning actress Helen Mirren last year, where she praised Latisse. She said: "Quite honestly. I don't really know what a beauty routine is. But I love beauty products, and I'm always trying new ones. One thing I consistently use is Latisse. It really works, and if your eyelashes look great, you can let a lot of other things be cr*p."
Moreover, Danielle Lineker, model and wife of football legend Gary Lineker, offered beauty tips to The Mirror back in 2011 and spoke of the wonders of the eyelash booster. She commented: "This stuff really works!...It contains prostaglandin analogue that stimulates the eyelash follicles to grow hairs that are much longer, thicker and darker. I've had amazing results."
Here is the great news…Medical Specialists® Pharmacy are pleased to announce Lumigan eye drops are now available to patients who want to grow longer and more luscious eyelashes. No longer will only the famous celebrities be able to afford the product, as Medical Specialists® - famous for its low prices – now offer eyelash booster Lumigan for the rock bottom price of just £49.95…Much more affordable than the £180 - £200 a bottle charged from other websites! It can be obtained either by an online consultation with one of the Medical Specialists® GMC-registered doctors, who will write a private prescription, or via a private prescription from a patient's own doctor.
And to think this all started by pure chance. Back in the early 2000s people suffering with raised pressure in the eye, for example in open-angle glaucoma, were starting to be prescribed the eye-drop solution Lumigan. The ingredient in Lumigan – bimatoprost - works by decreasing pressure inside the eye by increasing the drainage of fluid from the eye into the blood stream. Soon though, it was apparent there were some rather unexpected benefits from the drug.
During this period, eye doctors and their glaucoma patients began to notice one particular side-effect: longer, thicker, darker eyelashes were flourishing over time.
In disbelief at their wonderful finding, Allergan, the makers of the drug, didn't hesitate to get Lumigan through the necessary clinical trials. Instead of focusing on glaucoma, they were now assessing the impact of Lumigan for a condition known as hypotrichosis - abnormally underdeveloped eyelashes or not sufficient to give you adequate or enough eyelashes.
Following FDA approval in 2008, the product was then launched with the name 'Latisse' and promptly marketed for its ground-breaking eyelash-boosting powers. After all, many women believe that longer and lusher eyelashes give them bigger and more appealing eyes.
In respect of eyelash growth, bimatoprost, a synthetic analogue (mimic) of a naturally occurring chemical called prostaglandin, is also believed to be associated with hair growth, working to increase the length of the active hair growth phase.
You might be forgiven for being confused about Lumigan and the American branded version Latisse, and what differences there are – if any. The ingredients, concentrations of all the ingredients, and even the bottled it is supplied in, are all exactly the same. The only thing that separates the two is the packaging and the fact that Latisse is supplied with applicators.
Lumigan may have been first intended to treat glaucoma, but it is far from being the first occasion when a treatment developed with the intention of fighting a disease was later discovered to have other surprising side effects. Cosmetic Botox (also produced by Allergan) was initially used by ophthalmologists to suppress eyelid spasms, whilst Minoxidil (contained in hair loss treatment Regaine) was firstly used as an oral treatment for high blood pressure.