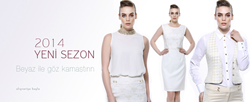 Moscow, Russia (PRWEB) March 05, 2015
Secil Giyim is among the most authoritative players in the Turkish fashion clothing market, with a history of 31 years. Extensive experience and strict adherence to international quality standards made it a trendsetter in the Turkish fashion industry and a market leader among cloth manufacturers, its annual output reaching 500,000 pieces. Today, Secil Giyim clothes are available at 12 outlet stores; in 5 years, corporate presence will expand to 40 outlets.
Secil Giyim has made a decision to fully automate its business processes, aiming to increase the speed and the quality of customer services with Business Automation System application. The application is based on 1C:Enterprise platform and developed by DND Yazilim.
Secil Giyim was founded by Mr. Faik Gungor in 1981. It is a major women's clothes brand targeted for clients that appreciate style, smartness and fashion in their clothes. The company started its business from manufacturing skirts and trousers in Demirtepe, Ankara while having only 9 employees. In 2000 it moved to Balgat to its new facilities that host administration, marketing, sales, accounting, finance, product development and design departments, as well as manufacturing contract and logistic departments.
Besides the Secil Giyim brand itself, other popular women's clothes brands in its portfolio are Gala-xi, Ilmio and Junker. Secil Giyim has a strong presence on the Ukrainian market, with 28 Junker brand stores since 2004. Secil Giyim established a partnership with a plus size brand Gala-xi in 2006 and started manufacturing nightwear with Ilmio brand in 2008. Secil Giyim plans to establish a Ilmio retail store network by 2015.
An average Secil Giyim clothes collection includes 600 inspiring authentic design pieces, featuring season fashion and world trends.
As well as in 300 retail stores in Turkey, Secil Giyim products are also available in foreign markets, ranging from Europe to the Middle East. Moreover, Secil Giyim has launched an online store available worldwide (http://www.sclstore.com) to keep pace with the latest technological trends.
DND YAZILIM has automated the processes below:

Sale and retail, sales reps and consignment sales
o International and multiсompany operation support
o Sale business processes
o Effective sales reps and consignment sales follow up
o Cashier desk
o Warehouse transfers
o Costing
Pricing, discounts and marketing campaigns
o Product specifications, product types, color and size matrix
o Product hierarchy and categories
o Price lists and price assignments
o Sales campaigns, instant discounts, discount vouchers via text messages, bonuses
o Cost precalculation
o Production planning
o Work orders
o Demand calculation
o Barcode tracking
o Raw material quality control
o Accounts payable and accounts receivable
o Bank transactions
o Online banking
o Cost centers and expense optimization
o E-invoicing
o Supply process management
o Purchase claims and quote analysis
o Warehousing
o Vendor cost monitoring
o Recruitment
o Personal information
Customer relations management
o Events
o Tasks
o Extended company info
o Notifications
o Custom reports
o Report builder
o Company status report
Project summary
Project name - Secil Etek Giyim
Project duration - 15 months
Year - 2013
City, country - Ankara, Turkey
1C:Enterprise version - 8.3.5.1460
Basis application - Business Automation System
Operation mode - MS Windows Server 2008, MS SQL Server 2008
Users - 100
Business area - Textile manufacturing and retail
About DND Yazilim Ltd.
DND is a software development company founded and located in Ankara, Turkey. DND is an R&D (research and development) company and operates in Ankara University Techno-Park. As a solution partner of 1C Company, DND has successfully integrated many projects in different fields: production, logistics, marketing, clothes production&marketing and more. The company uses innovative ideas and relies on its rich experience in software integration in order to provide best service to its customers.
About 1C Company
1C Company was established in 1991, for the purposes of software development, distribution, publishing and support of computer applications and databases for business and home use. 1C Company works with clients through more than 10,000 partners in 600 cities in Russia and Eastern Europe, including 7,000 certified 1C:Franchising companies to provide integration services for the automation of businesses.
The 1C:Enterprise system of programs is used daily by several million users in business and government to automate operations, accounting, finance, HR and management activities. 1C Company provides an array of vertical solutions for manufacturing, distribution and service businesses. With its innovative technological platform, 1C:Enterprise and a range of other applications, 1C Company has achieved wide popularity for its openness, fast modifications and software updates. 1C:Enterprise is a very flexible and scalable platform, which meets the needs of companies ranging in size from a single user to hundreds of users. 1C Company is the market leader in enterprise automation in Russia, Ukraine, Kazakhstan and Belarus and is used widely in the global market.