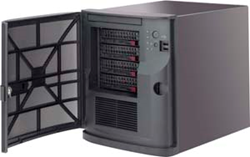 StoneFly M-Series DR Backup Appliance combines an enterprise-level backup engine with 2TB to 24TB storage capacities to create a powerful disaster recovery solution
Hayward, Calif. (PRWEB) March 04, 2015
StoneFly, Inc., a leading supplier of integrated storage area network (SAN) systems and a wholly-owned subsidiary of Dynamic Network Factory, Inc. (DNF), today expanded its robust backup and disaster recovery product line with the release of its new StoneFly M-Series DR Backup Appliance.
Packaged in a compact mini-tower less than 10-inches tall with hot-swappable disk drives, the StoneFly M-Series DR Backup Appliance combines an enterprise-level backup engine with 2TB to 24TB storage capacities to create a powerful disaster recovery solution for the small and medium-sized business market with aggressive pricing starting below $4,000.
Featuring many of the same backup features as its older sibling the StoneFly DR365 "DR Site in a Box", the M-Series automatically creates backup images of physical and virtual servers using flexible user-defined policies configured with a single central management console. Formidable backup capabilities include snapshots, SSL-encryption, backup validation, along with compression and data deduplication at the source and target for optimized utilization of the network and storage.
Supporting all four types of P2P, P2V, V2P and V2V operations, backup images can be restored back to the same hardware using bare metal recovery, to dissimilar hardware or hypervisor, or even converted into a Virtual Machine and spun up on a virtual appliance for instant recovery. To safeguard against accidental file deletion or overwrites, backup images can be mounted to appear as a local drive to retrieve an earlier copy of a specific file or folder.
"StoneFly M-Series of DR Backup Appliances is a purpose-built backup system in one easy to manage appliance", says Mo Tahmasebi, president and CEO for StoneFly. "It provides an SMB customer with an affordable and total backup solution for all of their physical and virtual servers and workstations in a single box, allowing them to manage all of the backup operations for their entire datacenter or office with a single console."
Backup Agents supporting most instances of Windows, Linux, VMware, Hyper-V, Citrix XenServer, RHEV and Oracle VM provide thorough backup capability of datacenters no matter how diverse. Specialized agents for Microsoft Exchange, SQL, SharePoint, and Active Directory, provide reliable recovery of configurations, databases, or individual items such as an email message, table, document, or domain controller. This feature is automatically included with VMware and Hyper-V Backup Agent license which also performs agentless backups on all Virtual Machines running on those appliances.
To protect against catastrophic loss of data due to fire or natural disaster, StoneFly's optional CDR365 Cloud Backup can be easily configured using a built-in wizard to securely replicate backup images from the M-Series Backup Appliance to the cloud for the ultimate in Disaster Recovery. Presenting AES 256-bit source side encryption, SSL encryption on transit, and incorporated with server side encryption for data at rest, data is never left unprotected on its way to or within the cloud. StoneFly's CDR365 Cloud Backup service is priced at $99/month per TB of storage.
About StoneFly: StoneFly, Inc., headquartered in California, was founded to deliver upon the vision of simple and affordable storage optimization and disaster recovery protection through IP SAN solutions. StoneFly is a business division of Dynamic Network Factory, Inc. (DNF), a leading maker of high-performance network attached storage, storage area networks, RAID and iSCSI systems. For more information on StoneFly, please visit http://www.stonefly.com and http://www.iscsi.com