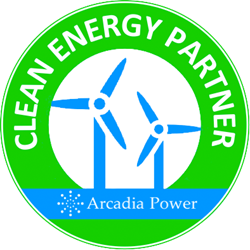 Reducing our carbon footprint is just one step we can take to do our part to have a positive impact on our community and our world
San Diego, CA (PRWEB) March 05, 2015
Today, Earth Source Organics (ESO) announced that it is now running on 100% pollution-free electricity through a partnership with national Clean Energy provider, Arcadia Power.
As an Arcadia Power Clean Energy Partner, ESO now meets the Environmental Protection Agency's (EPA) Green Power Partnership requirements, joining national brands such as Whole Foods, Google, and Starbucks that also purchase clean energy. Earth Source Organics joins a growing community of businesses, individuals, and families who are taking responsibility for their energy consumption through Arcadia Power.
Arcadia Power is the first nationwide Clean Energy option. By partnering with wind and solar projects, Arcadia Power provides homes and businesses with 100% pollution-free energy via local utilities. Members support their values through their monthly energy bills, decreasing demand for fossil fuels and helping to grow American green jobs and power. Arcadia Power partners with sustainability-minded companies and organizations to combat climate change and secure a better future for our planet. For more information, visit http://www.arcadiapower.com.
Earth Source Organics is built upon the principle of providing delicious food with raw ingredients that are not only packed with superfood nutrients, but produced with social and environmental responsibility. "Reducing our carbon footprint is just one step we can take to do our part to have a positive impact on our community and our world," explains ESO Owner Audrey Darrow. "We are so excited to partner with Arcadia Power and we couldn't be prouder to be a Clean Energy Business."
More About Righteously Raw Chocolates:
Righteously Raw is the gourmet chocolate brand of the certified organic food manufacturing company Earth Source Organics. Based in Southern California, this company is on a mission to provide organic and delicious foods to its customers to help them lead happy, healthy lives. For more information and to find Righteously Raw Chocolates near you, please visit http://www.righteouslyrawchocolate.com.
To learn more about Earth Source Organics' sustainability efforts, please contact Audrey Darrow at (760) 734-1867 or info@earthsourceorganics.com