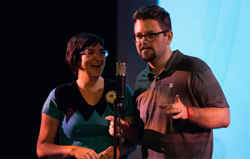 We've got an excellent line-up of storytellers planned. -Sara Hebert, All Y'all cofounder
Shreveport, LA (PRWEB) March 04, 2015
The fourth All Y'all Live storytelling event, "Ladies Night," will be held at 7 p.m. on Saturday, March 14 at the historic Woman's Department Club theater in Shreveport. The Woman's Department Club is located at 802 Margaret Place. March is Women's History Month in the United States, and all stories told during this installment of All Y'all Live will be told by women. Tickets are $10 each and advance ticket purchase is recommended. The program is expected to run two hours and a brief intermission is scheduled. Tickets may be purchased at http://www.allyallblog.com.
The evening will feature true stories, told live and without notes, from the lives and adventures of unforgettable women. Please note that, due to the intensely personal nature of the evening, some strong language and adult references may be used.
Storytellers slated to take part in the event include Theresa Andersson, Eman Bader, Malari Coburn, Sherry Jefferson, Annie Kendig, Maya Lau and Annie Mills. Musical interludes on ukulele will be performed by Alex Hester of Shreveport. A cash bar will be provided by Wine Country Bistro and Bottle Shop.
"Hosting a program of women storytellers at the Woman's Department Club just seemed like a perfect fit," said All Y'all cofounder Sara Hebert. "We've got an excellent line-up of storytellers planned."
Stories told at All Y'all Live events are recorded and select stories are released as episodes of the All Y'all podcast, a Shreveport-based podcast featuring local storytellers. Both the podcast and the live events are hosted by producers Sara Hebert and Chris Jay of Shreveport. To listen to podcast episodes, visit http://www.allyallblog.com or search the iTunes store for "All Y'all."
Past All Y'all events have featured stories on themes such as life-altering mistakes, new beginnings, addiction and recovery. "Under the Influence," the most recent live storytelling event hosted by All Y'all, was a fundraiser for the Council on Alcoholism and Drug Abuse of Northwest Louisiana (CADA). The event successfully raised and donated $2,000 to CADA.
For more information, contact event organizers at hello@allyallblog.com.