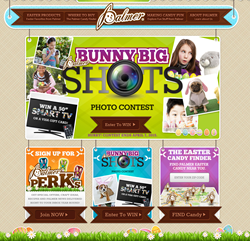 Reading, PA (PRWEB) March 06, 2015
R.M. Palmer Company, the largest maker of hollow candy Easter bunnies in the world, announces the launch of an Easter website featuring new products, recipes, crafts and a photo contest to brighten the holiday for families everywhere.
The website is the hub of Palmer's Easter 2015 Bunny Shots Photo Contest. Visitors can enter the contest by uploading photos on Easter themes including Visiting the Easter Bunny, Decorating Eggs, Egg Hunts and Easter Morning. Winners will be chosen by popular vote, earning $250 and $500 VISA gift cards. R.M. Palmer Co. will award a grand prize of a 50-inch Smart TV for the photo that best captures the essence of Making Easter Fun using Palmer products in the photo. Details are available on the contest website at http://goo.gl/uqkrzR.
The Easter website also features new activities to help parents make the season special. A Bunny Notes creator allows parents to create colorful, personalized notes from the Easter Bunny. In addition, our Basket Planner allows visitors to assemble perfect baskets based on their budgets, interests and personal styles and create shopping lists to make gift giving foolproof.
The Easter 2015 website features nine new additions to Palmer's ever-popular Easter recipes and crafts. New crafts include burlap Bunny Ear Pouches, Bunny & Chick Candy Munchers and Easter Candy Cones. These quick and easy crafts turn Palmer candies into thoughtful, charming Easter gifts suitable for a variety of occasions. New family-friendly recipes for 2015 include Hoppy Trails Layer Cake, Bunny Dirt Pudding, Easter Egg Nests, Rabbit Patch Brownies and more.
Following Palmer's tradition of making holidays fun and affordable for families on a budget, every craft and recipe on the site costs $10 or less to make.
Two brand new bunnies are joining the iconic Palmer Bunny Bunch this year. Color Me Cottontail is a 2.25-ounce milk chocolate-flavored bunny with a basket full of colorful eggs. The package includes a coloring scene and three Crayola crayons so children can enjoy creating colorful homes for their Cottontails. Hoppy Trails, a 6.5-ounce traditionally-styled bunny with ribbon tie, also joins the Palmer Bunny family this season.
Other new products for Easter 2015 include an 18-ounce bag of chocolate flavored Easter Eggs and a 60-ounce resealable bag of Bunny's Egg Hunt Mix featuring some of Palmer's most popular candies. In addition, fans will enjoy new 5-ounce candy dish bags of Peanut Butter Easter Minis, Marshmallow Easter Minis, and Marshmallow Crème Eggs. Finally, new 4.5-ounce Easter Puppy Bars featuring pups dressed up in bunny ears will delight animal lovers of all ages.
Each year, R.M. Palmer Co. manufactures 50 million hollow Easter bunnies for sale in the United States and beyond. Palmer's products are available at grocery stores, discount stores, drug stores and other retail outlets throughout the U.S.
ABOUT RM PALMER COMPANY
R.M. Palmer Company has been crafting fun, seasonal chocolate novelties since 1948. Today, the R.M. Palmer Company is the 75th largest confectioner in the world, with more than $165 million in annual sales, and is the 21st largest confectioner in North America (according to candyindustry.com). From their headquarters in West Reading, PA, Palmer's 850 dedicated employees design, produce, package and ship more than 500 unique items to nearly 100,000 retail locations in North America - making Palmer one of America's largest and most innovative confectioners. For more information about R.M. Palmer Company, visit http://www.rmpalmer.com.