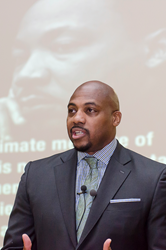 Every single choice you make matters. Imagine you are your own company called You Inc., and imagine that each and every day someone is deciding whether or not to buy that company.
Princeton, NJ (PRWEB) March 06, 2015
Eric Hutcherson, senior vice president of human resources for the National Basketball Association, spoke at The Hun School of Princeton on Tuesday, March 3rd. During Mr. Hutcherson's presentation, "Say Yes to Success," he identified five strategies for personal success in college admissions, job interviews, and life. His lively presentation utilized audience participation, humor, and vast personal expertise to engage students in a discussion about personal branding. His appearance was part of The Hun School's Centennial Speaker Series: A Global Perspective.
"Today, I am going to explain five strategies I call the PRIDE Principle®: Positive Mental Attitude, Respect, Intelligent Choices, Dreams and Goals, and Execution," explained Mr. Hutcherson. "Each one of the strategies independently stands on its own; but when you put the five together, you have this powerful thing called PRIDE. And when that magic happens, you can't be stopped."
The PRIDE Principle® drew students' attention to the power of first impressions and the preparation necessary for that impression to carry impact. Mr. Hutcherson explained how people will assess someone they meet from thirty feet away, thirty inches away, and within their first thirty words.
"Have you thought about what you would say, if somebody asked, 'Who are you?' Have you ever introduced yourself to you? Have you ever taken the time to consider – 'What are the things that make me different from everybody else, and how would I articulate to someone else why that's important?' The person who has practiced that, who can easily say what distinguishes them, I can tell you, that person has more doors open to them as a result."
He explained how students' decisions today – big and small – have the ability to open or close doors in the future.
"Every single choice you make matters. Imagine you are your own company called You Inc., and imagine that each and every day someone is deciding whether or not to buy that company. The way you interact with others and communicate about yourself goes into the brand of You. You are your own company, and your brand is made up of the things that you do everyday." said Mr. Hutcherson.
Suhina Srivastav '15 said, "It was like Mr. Hutcherson shined a light on something we all deal with, particularly as seniors with college applications – our personal brand. It was interesting to hear what he considers when he is hiring employees. And I really appreciated how honest he was. The message helped me think about my brand."
Mr. Hutcherson is currently working on his first book, "The Pride Formula." As a senior vice president of the NBA for human resources, Mr. Hutcherson is responsible for compensation, employment and relations, learning and development, and recruiting. He currently serves as a member of The Hun School of Princeton Board of Trustees. He and his wife Linda have two sons Austin '17 and Myles '18, both of whom attend The Hun School.
The Hun School will welcome Jason Collins, a second member of the NBA organization, on April 15th.
About The Hun School of Princeton:
The Hun School of Princeton is a co-educational, private day and boarding school in Princeton, New Jersey. Individual attention and strong student-faculty relationships are the hallmarks of the School. On the 45-acre campus between Philadelphia and New York City, student-centered, hands-on learning prepare students for the global community in which they will live and work. The Hun School is comprised of 630 students in its Middle School, Upper School, and Postgraduate Program. The Hun School is home to students from twenty-three countries and eighteen states.