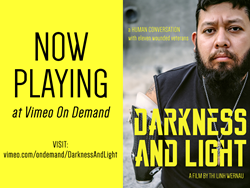 My hope was to portray veterans in a new light as beautiful human beings.
Boston, MA (PRWEB) March 05, 2015
Thi Linh Wernau today announced the launch of her first feature length documentary, "Darkness and Light". Ms. Wernau worked with eleven different wounded veterans to produce this groundbreaking film, which exposes the humanity of ten post-9/11 Marine veterans and one Korean War soldier. As the veterans struggle with wounds ranging from post-traumatic stress (PTS) to triple amputation, Wernau focuses on their feelings and challenges as human beings. The result is a poignant film, where themes around darkness and light post-war and the human spirit emerge in raw, candid and unscripted interviews.
"My hope was to portray veterans in a new light as beautiful human beings. These wounded vets have sacrificed so much for our country. 'Darkness and Light' was a way of giving them a voice and augments the photographs from my 'You. Are.Beautiful.' project," said Ms. Wernau.
After a successful advertising and mobile technology executive career, with stints at Hill Holliday and m-Qube, Wernau founded the "You. Are. Beautiful." project in 2012 to give back to wounded veterans and their families. Underwritten by Peter Wernau's investment firm, Wernau Asset Management, the project has raised many thousands of dollars for wounded veterans through exhibitions of Ms. Wernau's photography.
"This film was the logical progression of our mission to bring the stories of wounded veterans to the masses. We decided to launch the film on Vimeo On Demand in order to reach anyone on any screen with this important message of hope and inspiration," continued Wernau.
"Darkness and Light" is available today at Vimeo On Demand for a $3.99 rental fee. Wernau plans to host an east and west coast premiere of the film in select theaters later this year.