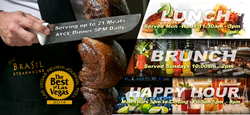 Via Brasil Steakhouse is open for Lunch from March 23rd 2015 -Every Monday, Tuesday and Wednesday Ala Carte Menu
Las Vegas , Nevada (PRWEB) March 09, 2015
Via Brasil Steakhouse's lunch menu is unlike any other menu. It was designed for super low-carb diets.
Via Brasil Steakhouse Chefs have created healthy but tasteful dishes such as:

Blackened salmon with passion fruit sauce
Crisp mango salad
Roasted beet salad & grilled shrimp with pineapple salsa
Tropical fruit salad
Avocado salad with crab
Lean and healthy sandwiches with a choice of many different meats like chicken, fish, beef or pork
Lean soups
Via Brasil Steakhouse will be open for lunch every Monday, Tuesday and Wednesday from 11:30 a.m. to 3 p.m. beginning March 23rd, 2015.
Guests can be sure to be happy with the low prices of the lunch options.
About Via Brasil Steakhouse:
Via Brasil Steakhouse is a Brazilian Steakhouse/Churrascaria located on 1225 S. Fort Apache Road #100 LV NV 89-177. It offers diners the unique service style of Rodizio Dinner, featuring up to 21 meats served tableside, a gourmet salad/appetizer bar with 35 hot and cold dishes and 16 side dishes—all you can eat for a fixed price. For children 4 years old and under, Rodizio Dinner is free; for children 5-6 years old, Rodizio dinner is only $4,99, and for children 6-12 years old, Rodizio Dinner price is $24.50.
Every Sunday join us for Rodizio Brunch. From 10 a.m. - 2 p.m. enjoy one of Las Vegas' best brunch's with more than 50 items, all you can eat, featuring 6 succulent meats served tableside, chef's made-to-order omelet and waffle station and gourmet salad bar filled with great brunch options for $24.99.
Lunch starts March 23rd, 2015. Via Brasil Steakhouse will be opened every Monday, Tuesday and Wednesday from 11:30 a.m. to 3p.m. for healthy lunches.