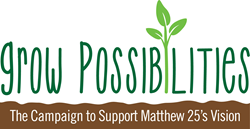 Funding Mathew 25 is like planting the seeds to grow vibrant neighborhoods.
Cedar Rapids, Iowa (PRWEB) March 10, 2015
Matthew 25, an organization focused on strengthening the core, west-side neighborhoods of Cedar Rapids, has been working to empower people of those neighborhoods since two years before the Flood of 2008. The capital campaign, "Grow Possibilities," will help fund the infrastructure Mathew 25 needs to continue its mission of "empowering people to transform neighborhoods."
Mathew 25 kicked off the public phase of its capital campaign today, announcing that $1.5 million has been raised to date. A $375,000 Hall-Perrine matching grant has helped push the capital campaign over the three-quarter mark toward its $1.8 million goal.
"We couldn't be more appreciative of the campaign's lead donor, The Hall-Perrine Foundation, for its two-for-one matching grant," said Bob Buntz, campaign co-chair. "This grant, combined with strong contributions from the Aegon Transamerica Foundation, Diamond V Mills, the Bloomhall Family, Len and Marlene Hadley, and CRST and the Smith Family, shows deep support from the community for the work of Matthew 25.
"I'm grateful for the participation in the campaign by members of our board of directors, our advisory board, and the steering committee of the campaign. Funding Mathew 25's new home and mission is like planting the seeds to grow vibrant neighborhoods."
After helping rebuild over 250 homes following the Flood of 2008, Matthew 25 has found a permanent home to call its own in the Kingston Building, located at 201 Third Avenue SW. Today's announcement was made from this historic building, which has great potential to serve the needs of the organization and the community.
The Kingston Building has been brought up to code, but requires serious renovations to convert it into a space conducive to educational programming and community development. Upgraded plumbing, electrical and lighting systems are needed as well as a new elevator and an adjacent parking lot.
"This campaign will provide us the space and tools we need to support our vision," said Clint Twedt-Ball, Mathew 25 executive director. "We've found when you invest in people's dreams and talents; they are capable of achieving great things."
Funds from the Grow Possibilities campaign will be used to renovate the Kingston Building in Kingston Village and also to complete the build-out of Matthew 25's Urban Farm. The Urban Farm, in the Time Check neighborhood, serves as the central hub of Matthew 25's food education and healthy, local foods access program, Cultivate Hope. This healthy food initiative is promoted in gardens at five area schools, where students learn the importance of growing and eating healthy foods.
"The farm has created an opportunity for the community, businesses and organizations to volunteer. People in the neighborhood have become involved, with one neighbor taking over a patch to start an herb business," said Bradd Brown, principal at OPN Architects and campaign co-chair. "There are many more wonderful opportunities that will come from the Urban Farm."
While Matthew 25's goals of cultivating hope and neighborhood building focus on the Taylor and Time Check neighborhoods, the third goal of the organization focuses on our community's youth population. As Matthew 25 works to empower youth, self-expression is encouraged through the Groundswell Youth Arts Center and Community Gathering Space. The space offers open mic nights as well as concerts and arts workshops. It serves as a supportive atmosphere for youth to share who they are and to develop their talents.
"We are very thankful for all of the donations we have already received," said Janan Brown, campaign co-chair. "By kicking off the Grow Possibilities campaign, we hope the excitement will continue to build and will motivate the community to give. We have a wonderful opportunity to quickly reach our goal given the fantastic support of The Hall-Perrine Foundation and the other lead donors."
She encouraged people to consider creative ways to give to the project, stating that people can make cash gifts or pledges, gifts of grain, stock or life insurance, or explore utilizing IRA rollover funds.
For more information, or to make a donation to the Grow Possibilities capital campaign, please call 319-362-2214, or visit http://www.Hub25.org.
# # #