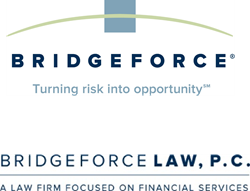 Chadds Ford, PA (PRWEB) March 05, 2015
Bridgeforce Law, P.C. and Bridgeforce Inc. respond to the recent announcement by the U.S. Department of Education that it was suddenly ending its relationship with five of 22 private student loan collection agencies due to UDAAP violations. The agencies are tasked with pursuing borrowers who have become delinquent on loan payments. According to Brian Reiss, President of Bridgeforce, "The biggest take away is that the Department of Education is going to be highly focused on regulatory compliance and preventing customer harm going forward."
UDAAP, created under the Dodd-Frank Wall Street Reform and Consumer Protection Act (Dodd-Frank), added an "Abusive" prong to supplement earlier versions of a similar protection. Acts and practices are deemed abusive if they are considered to mislead or take unreasonable advantage of a consumer. The Department indicated that the acts by the five collection agencies that violated UDAAP include the following:

providing borrowers with materially inaccurate representations about the loan rehabilitation program
providing inaccurate information at unacceptably high rates about the program's benefits
providing misleading information about the waiver of certain collection fees
The Department stated that it will provide enhanced UDAAP and Fair Debt Collection Practices Act monitoring and guidance for the remaining 17 private collection agencies to ensure that borrowers are consistently provided with accurate information regarding their loans. The Department will also increase internal training, expand the private collection agency manual, and augment its internal escalation practices.
There was apparently no prior warning provided to the five terminated collection agencies in advance of the Department's February 27th announcement. A National Recoveries representative stated the company "had no warning," while a Pioneer Credit Recovery representative indicated that the agency was "blindsided" by the Department's decision. The 17 private debt collection contractors that remain under contract following the Department's review are now on notice.
UDAAP principles are not limited to the education lending sector, but are expansive throughout the financial services industry. The Department's actions illustrate that there are real consequences to not strictly abiding by UDAAP.
"Collection agencies from all sectors must heed the Department of Education's recent decision to terminate its relationships with agencies that violate UDAAP. This is likely only the beginning of a more expansive UDAAP crackdown throughout the financial services industry," warns Kurt Kline, Managing Partner of Bridgeforce Law.
"UDAAP is a principle-based tool the CFPB uses on a case-by-case basis; the definitions of unfair, deceptive and abusive acts and practices focus primarily on what a debt collector cannot do, while placing the onus for compliance on the collection entity itself," notes Brian Reiss.
Bridgeforce Law and Bridgeforce both unequivocally recommend that any organization providing collection services under CFPB Supervision conduct an immediate UDAAP Risk Assessment to identify risks and prioritize Compliance Management System control enhancement needs. Additionally, it is recommended that lenders also prioritize UDAAP Risk Assessments across all areas of the lending cycle to ensure they are not inadvertently at risk for UDAAP violations in these other critical areas. UDAAP is more ambiguous than other Federal or State Collections Laws, and as such, Bridgeforce Law and Bridgeforce have jointly developed a multi-tiered approach to determine potential UDAAP risks and recommendations to further improve the quality and consistency of collections operations.
For more information about the Department of Education and its review of all private collection agencies, go to the February 27, 2015 announcement at the Department of Education's website.
About Bridgeforce Inc.
Bridgeforce is a specialized multi-national consulting firm serving a variety of clients involved in almost all aspects of the consumer and small business lending and payments space. Over 75 percent of Bridgeforce consultants come directly from client-side leadership positions across multiple parts of the credit lifecycle. Combined with subject matter expertise in operations, technology, strategy and regulatory issues, Bridgeforce has the knowledge and experience to make the hard choices in developing and implementing best-fit solutions that are both achievable and lower the risks of execution to ensure sustainability. Bridgeforce success can be attributed to a culture fostering innovation and evolving experienced-based best practices recognized within the industry. For more information, visit http://www.bridgeforce.com.
About Bridgeforce Law, P.C.
Bridgeforce Law is a boutique law firm focused on financial services, working with a variety of companies with legal and/or operational issues related to consumer and small business lending and payments. Bridgeforce Law works collaboratively with clients to provide legal and practical solutions, and will frequently call upon consultants when real-life operational experience will provide an enhanced client experience and help move business forward.