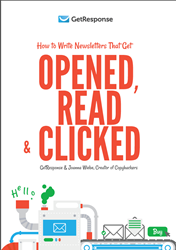 If there is one force holding your newsletter back, it's that you refer to it as a "newsletter".
Wilmington, DE (PRWEB) March 06, 2015
GetResponse, the leading email marketing SaaS provider, has published an e-book that expands on their groundbreaking innovations in email optimization and marketing automation. To write the e-book, GetResponse called on the prolific author and speaker Joanna Wiebe, co-creator of Copyhackers.com and Disco Surveys, along with a project team from GetResponse.
"We estimate that there may be as many as 174,400 B2B newsletters floating around," says Joanna Wiebe, "so inbox competition is at an all-time high. Instead of writing a newsletter, let's talk about how to write and send emails that connect with people and provide value every time."
Joanna Wiebe was chosen because her style complements the GetResponse focus: using email marketing to develop profitable, long-term customer relationships built on trust.
ABOUT THE E-BOOK
"How to Write Newsletters That Get Opened, Read and Clicked" begins with an analysis of current approaches to content marketing, making a compelling case for a return to marketing fundamentals. A newsletter should have its own value proposition to guide editorial choices that generate measurable results for readers and the business.
For the business, the newsletter value proposition involves list growth and engagement, lead generation and sales, reputation-building, paid sponsorships, and publicity. The value proposition for the customer can be elusive, so the e-book provides worksheets for identifying and refining it, including examples from some of today's sharpest marketers.
With this groundwork in place, the e-book drills down into the nuts and bolts of measurable response, starting with the ratio of subscribers who open the company's newsletters. The prime concern is conversion: Emails that don't get opened can't convert readers into paying customers.
The e-book provides insights on factors that get marketing emails opened and those that practically guarantee they won't be opened. It includes helpful tips on steering your emails into Gmail's Primary Tab and avoiding their dreaded Promotions Tab (also known as The Place Newsletters Go to Die). And it gives valuable advice on avoiding spam filters and winning back disengaged subscribers. There are lots of examples (backed by real-world statistics) showing how to optimize subject lines, From fields, and preheader text, and including tips on optimizing emails for viewing on mobile devices.
Next, the e-book explores conversion goals, offering advice not only on closing sales but also on increasing comments and social sharing. It includes strategies top copywriters use to increase conversions, complete with examples by legendary copywriters such as Chris Brogan, Jon Morrow, Marie Forleo, Laura Roeder and Ben Settle. The e-book concludes with thoughts on the indispensable value of A/B testing.
Marketers can download the e-book free at http://www.getresponse.com/whitepaper/how-to-write-newsletters.
"I'd like to thank Joanna Wiebe and the GetResponse project team that worked with her," said Simon Grabowski, GetResponse Founder and CEO. "We offer it free of charge in hopes that all email marketers will read and share it. The information will do great things for their marketing, their business, and the email marketing industry."
ABOUT THE COMPANY
GetResponse is a complete email marketing platform, offering tools for marketers to build entire marketing programs from start to finish in one spot. It includes innovative features such as responsive design, landing page creator, email analytics, email automation, and smart list import. Its user-friendly interface, best-in-class 99.5% deliverability and 5-star Customer Service, make it the top solution available in the market. The system, available in 12 languages, serves more than 350,000 customers from 193 countries, delivering 12 billion emails per year. For more information, please visit http://www.getresponse.com.