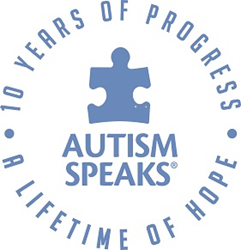 NEW YORK, N.Y. (PRWEB) March 10, 2015
Autism Speaks, the world's leading autism science and advocacy organization, is partnering with The Home Depot and Philips to shine a light on autism during Autism Awareness Month in April. Thousands of landmarks, buildings and homes will be bathed in blue light on April 2, World Autism Awareness Day. Awareness is a key component of Autism Speaks' mission because it often leads to early diagnosis and treatment, and understanding of autism – a disorder that affects 1 in 68 people in the United States.
To support Autism Speaks' annual Light It Up Blue campaign, The Home Depot is selling three types of blue Philips light bulbs and an Amerelle night-light, offering its customers across the United States an easy way to join the campaign. A portion of each sale will go toward Autism Speaks' efforts to promote research, advocacy and family services.
This year's campaign comes as Autism Speaks reaches a milestone. The organization is marking ten years of progress. Since 2005, when it was founded by Suzanne and Bob Wright, Autism Speaks has committed more than $525 million to its mission. Corporate partnerships have played an important role.
"The generosity of The Home Depot and Philips will go a long way toward promoting understanding of a disorder that affects a growing number of children in this country," said Alec Elbert, chief strategy and development officer for Autism Speaks. "Buying a blue light bulb may seem like a small gesture, but multiplied many times over, those purchases enable us to fund groundbreaking research and connect families with services in their communities."
The incandescent Philips blue light bulbs retail for $3.28, and $1 from each one purchased, up to $150,000, will benefit Autism Speaks. In addition, Philips blue CFL and blue flood light bulbs are available in stores, with $1 from the sale of each bulb benefiting Autism Speaks. Home Depot will carry the specially marked Light It Up Blue products in all of its U.S. stores throughout the year.
Last year, 10,000 landmarks, buildings and homes in 136 countries on all seven continents took part in Light It Up Blue. A photo gallery, along with ideas for ways to get involved, is on Autism Speaks' special website, http://www.autismspeaks.org/liub. The site also accepts donations to fund autism awareness and research efforts.
About Autism
Autism is a general term used to describe a group of complex developmental brain disorders – autism spectrum disorders – caused by a combination of genes and environmental influences. These disorders are characterized, in varying degrees, by communication difficulties, social and behavioral challenges, and repetitive behaviors. An estimated 1 in 68 children in the U.S. is on the autism spectrum.
About Autism Speaks
Autism Speaks is the world's leading autism science and advocacy organization. It is dedicated to funding research into the causes, prevention, treatments and a cure for autism; increasing awareness of autism spectrum disorders; and advocating for the needs of individuals with autism and their families. Autism Speaks was founded in February 2005 by Suzanne and Bob Wright, the grandparents of a child with autism. Mr. Wright is the former vice chairman of General Electric and chief executive officer of NBC and NBC Universal. Since its inception, Autism Speaks has committed more than $525 million to its mission, the majority in science and medical research. Each year Walk Now for Autism Speaks events are held in more than 100 cities across North America. On the global front, Autism Speaks has established partnerships in more than 60 countries on five continents to foster international research, services and awareness. To learn more about Autism Speaks, please visit AutismSpeaks.org.
About The Home Depot
The Home Depot is the world's largest home improvement specialty retailer, with 2,269 retail stores in all 50 states, the District of Columbia, Puerto Rico, U.S. Virgin Islands, Guam, 10 Canadian provinces and Mexico. In fiscal 2014, The Home Depot had sales of $83.2 billion and earnings of $6.3 billion. The Company employs more than 300,000 associates.
About Philips
Royal Philips (NYSE: PHG, AEX: PHIA) is a diversified health and well-being company, focused on improving people's lives through meaningful innovation in the areas of Healthcare, Consumer Lifestyle and Lighting. Headquartered in the Netherlands, Philips posted 2014 sales of EUR 21.4 billion and employs approximately 105,000 employees with sales and services in more than 100 countries. The company is a leader in cardiac care, acute care and home healthcare, energy efficient lighting solutions and new lighting applications, as well as male shaving and grooming and oral healthcare. News from Philips is located at http://www.philips.com/newscenter.
###