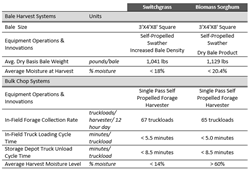 Having another successful biomass harvest season under our belts is further evidence that our in-field harvesting and supply chain systems are making the process easier and increasing productivity.
VONORE, Tenn. (PRWEB) March 05, 2015
Genera Energy Inc., a leading biomass supply company specializing in biomass feedstocks for advanced biobased industries, set new standards for efficiency with its recently completed harvests of miscanthus, switchgrass, and biomass sorghum. With this harvest, Genera continues to optimize its efficient year-round, just-in-time biomass harvesting and delivery systems.
Incorporating multiple feedstocks into the year-round supply chain offers obvious benefits but also introduces unique challenges in equipment scheduling, logistics, inventory management and other critical elements of the supply chain. Building on six years of focused development and testing of efficient harvest systems, Genera's team has further tested and refined new harvesting equipment and procedures at commercial scale during this harvest season.
"This continual improvement and validation adds value to the industrial-scale systems we implement for our customers, not only reducing cost, but more importantly reducing feedstock supply risk," said Keith Brazzell, COO of Genera.
This year's harvest signals a major milestone in biomass harvest practices. Genera's single pass forage harvest system, also known as a field chopping system, set new records this year for switchgrass harvesting efficiency. Not only are time, equipment needs, and costs reduced in the field, forage harvesting allows for reduced preprocessing and handling costs for the end user as the field chop exits the field at relatively small particle sizes in a dry, bulk flowable form.
"We are very pleased with the success of this harvest and how our innovations continue to improve the process," said Lance Stewart, certified supply chain manager of Genera. "As an example, in one 12 hour harvesting period, we processed 67 truckloads of feedstock biomass utilizing one harvester. In supply systems like biomass where weather is always a factor, speed and efficiency are critical for success."
In addition to field chopping, Genera also demonstrated improvements in bale harvest systems for both biomass sorghum and switchgrass, utilizing a self-propelled swather and a large square baler.
"Biomass sorghum offers high yield advantages, but the high moisture content at harvest can be challenging," said Lucas Graham, feedstock production and supply manager of Genera. "In most cases, biomass sorghum is forage harvested and direct delivered for just-in-time use, and only during the primary harvest window, as moisture levels are typically 50-70 percent at harvest."
Genera successfully demonstrated a method for in-field drying to reduce the moisture content of biomass sorghum to below 25 percent, allowing more conventional baling and longer-term storage.
"Having another successful biomass harvest season under our belts is further evidence that our in-field harvesting and supply chain systems are making the process easier and increasing productivity," said Sam Jackson, vice president of business development. "We are committed to offering the best biomass solutions and systems for our customers."
For more information on Genera, visit http://www.generaenergy.com.
About Genera Energy, Inc.
Genera Energy Inc. supplies biomass feedstocks for the advanced bio-based industries, offering scalable industrial scale agriculture biomass supply solutions ranging from full service energy crop production to customizable supply chain solutions and managing biomass supply. Genera's proprietary Supply ASSURE™ feedstock management system and its BIN-SPEC™ material handling and milling system offer Genera's customers maximum feedstock reliability and quality while minimizing variability and cost. Based in Vonore, Tenn., Genera operates the country's largest and most comprehensive industrial biomass management and processing facility. Focus on innovation and sustainability in delivering industrial biomass supply systems has earned Genera the World's Biofuels Market's prestigious 2013 Sustainable Feedstock Innovation Award. For more information, visit http://www.generaenergy.com.
###
For additional information, contact:
Heather Ripley
Ripley PR
hripley (at) ripleypr (dot) com
865-977-1973