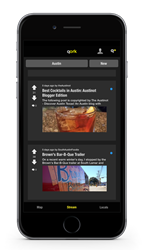 "As a long time attendee and speaker at SXSW, I'm looking forward to using Qork as my go-to app for finding and discovering what's happening in real time." - Alan Weinkrantz, a Rackspace Brand Ambassador
Austin, TX (PRWEB) March 09, 2015
Finding the best local content in your area can be a challenge no matter where you are, and the problem is compounded with large-scale events like South by Southwest, where the sheer amount of things to do can quickly become overwhelming. But a new mobile app Qork has partnered with some of the best Austin blogs and news sites in order to bring a curated stream of as-it-happens SXSW news to users at the festival.
Simply by opening Qork in Austin, festival attendees gain access to a dedicated SXSW news feed that includes content from over a dozen Austin news sites and local blog partners. All of the content is curated by the Qork team to ensure relevancy, and includes news on parties, nightlife, restaurant specials, sessions, screenings, and more essential SXSW info.
Whereas the official SXSW app presents a detailed breakdown of the festival from the perspective of the organizers, Qork aims to capture a more "on-the-ground" picture from the perspective of the people; attendees and journalists.
And the app couldn't come sooner, as SXSW 2015 shapes up to be one of the biggest in years.
"As a long time attendee and speaker at SXSW," says Alan Weinkrantz, a Rackspace Brand Ambassador and SXSW veteran, "I'm looking forward to using Qork as my go-to app for finding and discovering what's happening in real time. SXSW is a constant moving target of people, events, and spontaneous happenings, and it looks like Qork will be on my home screen and my sherpa for where to go and what to do in Austin."
In addition to pulling content from partner sites, Qork allows users to upload their own content, or "qorks," as well as engage in conversations with other locals. Qork also features a list of the most influential users at SXSW, and geolocates every piece of content on a map so that festival attendees can see exactly where a story's happening.
The end result is a local social news platform that provides a real-time snapshot of the SXSW experience.
Qork launched officially on January 15, 2015, and has been featured in Inc Magazine, The Next Web, WIRED, Geektime, Street Fight, and has been called a "Can't-Miss App" by Mashable.
For more info, please contact Ben Goldman at ben [at] qork [dot] it or +1-214-400-8428