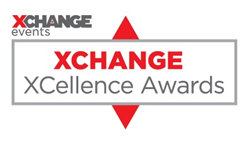 Norwalk, CT (PRWEB) March 06, 2015
Datto, the leading provider of comprehensive data backup, recovery and business continuity solutions, is proud to have won five XCellence awards at the XChange Solution Provider 2015 event on Tuesday evening in Dallas, TX.
The total data protection vendor marked a clean sweep, winning in all the categories it was nominated; Most Innovative Product, XCellence in Boardroom Execution (Event), XCellence in Solutions Pavilion Strategy (Event), XCellence in Service-Based Solutions and Overall Best of Show (Event).
"Being recognized by such a reputable organization like The Channel Company at the XChange event is a true honor for Datto," stated Rob Rae, Datto Vice President of Business Development. "We're continually striving to create more efficient and innovative technology and deliver real value to our Partners and the Channel as a whole. Standing alongside larger IT players like Lenovo, Microsoft and HP is confirmation that Datto has surpassed the start-up stage and has established itself as a mainstay IT Channel provider."
Since the launch of Datto SIRIS 2 in 2014, the company has made tremendous strides upmarket offering a business continuity solution that caters to small-to-medium businesses and is yet powerful enough to handle the bandwidth of enterprise needs. With it's proprietary core technologies like Inverse Chain Technology™, Backup Insights™ and Screenshot Backup Verification™, the Datto solution reduces downtime to nearly zero and makes the experience both easy and manageable for MSPs.
"The XChange XCellence awards is a trusted platform for attendees to recognize and spotlight the very best products, services and companies in IT that deliver real value and resources for their growing businesses," said Lisa MacKenzie, SVP Events, The Channel Company. "Datto's sweep of all the categories they were up for is a reflection of the strength of their channel commitment, products and efforts. Based on Datto's award winning performance last year (10 awards), it was no surprise that they carried that momentum into 2015."
This is the third time in company history that Datto captured 5 or more awards on the XChange main stage. The wins also highlight Datto as the one vendor with the most awards on the night.
For more information on Datto, visit http://www.datto.com.
About Datto
Datto is the leading provider of comprehensive data backup, recovery and business continuity solutions with over 5 million customers and 8,000 partners worldwide. With its total data protection platform, business data is protected everywhere it resides, whether on-premise, in virtualized environments, in the cloud, and software-as-a-service (SaaS) applications, including Salesforce, Google Apps, and more. To learn more go to datto.com or datto.com/backupify, follow on Twitter @Datto or connect with us on LinkedIn, Facebook and Google+.
For media inquiries,
Camille L. Currie, Datto
ccurrie(at)datto(dot)com
203-529-4932