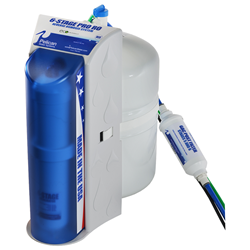 Pelican Water Releases Newer, Greener Reverse Osmosis System!
Deland, Florida (PRWEB) March 09, 2015
Pelican Water Systems, the market leader in environmentally-conscious, affordable water filtration and salt-free softening systems, is pleased to announce its affordable, efficient, and eco-friendly Pelican Pro 6-Stage Reverse Osmosis system.
The new system, launched on March 9th, offers homeowners cleaner, safer drinking water virtually free of chorine, chloramine, microorganisms, and contaminants. The system, manufactured in the USA, has been tested and approved by the National Sanitation Foundation (NSF) to remove over 97% of Arsenic, Fluoride, and Lead. These chemicals are common in water supplies, regardless of the source, and can cause health issues while affecting the taste and odor of water. The Pelican Water 6-stage RO system removes chemicals at the kitchen faucet to provide better-than-bottled quality water for cooking and drinking.
While other reverse osmosis systems filter out minerals essential for health, the Pelican Pro's carbon/mineral filter returns calcium and magnesium to your water during the unique sixth stage of filtration to ensure healthier, fresher water for families.
Easily installed under a counter, the compact, lightweight system Pelican Pro features a four-stage pre-filter, membrane, and post-filter housing a single, easily replaced cartridge. The system's advanced design and membrane technology reduce water waste by an impressive 50%, reflecting Pelican Water's commitment to sustainability and the environment. Under the counter, the system features a bold, sleek design with a blue shroud. Above the counter, faucets available in chrome, brushed nickel, and bronze ensure the system will fit stylishly into any décor.
About Pelican Water
Based in Deland, Florida, Pelican Water Systems has provided innovative, environmentally-conscious water filtration and water-softening systems for over two decades. As a member of the U.S. Green Building Council and the Water Quality Association, Pelican's mission is to continue to be the world's premier water solutions company through the development of increasingly green water products and an unsurpassed commitment to integrity and exceptional customer service. To learn more about Pelican Water and its affordable water filtration products, please visit PelicanWater.com.