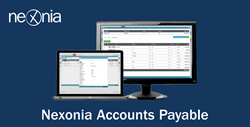 This is another example of how our customers are driving new and exciting developments with Nexonia products.
Toronto, Ontario (PRWEB) March 09, 2015
Nexonia Inc., leading provider of web and mobile business financial management solutions, has announced the launch of their latest product: Nexonia Accounts Payable. The sixth product from Nexonia, the accounts payable solution completes Nexonia's dynamic line-up of software solutions, all of which address the full range of business financial processes.
Offering customers the ability to manage payments with flexible approval workflows, Nexonia Accounts Payable provides both Nexonia customers and their vendors with the ability to access a vendor portal to email or upload invoices and W-9 forms. The unique email and attached invoice create a new invoice within Nexonia Accounts Payable, saving accounting administrators both time and costs while improving vendor relationships. Fully integrated with both NetSuite and Intacct ERP solutions, Nexonia Accounts Payable can be configured to fit customers' unique accounting systems and processes.
"Creating an intuitive accounts payable system that offers incredibly flexible approval processes and vendor information was a request brought to us by our customers, and we immediately saw the need for a simple solution," said Neil Wainwright, CEO of Nexonia Inc. "This is another example of how our customers are driving new and exciting developments with Nexonia products. Does your finance team have a problem that needs solving? We'd love to know about it."
Nexonia Accounts Payable is yet another way in which the company strives to provide its customers with a user-driven, easy-to-use platform for all of their the front-end ERP financial needs. Nexonia offers free personalized product demonstrations for all of their products, including the latest Nexonia Accounts Payable solution.
About Nexonia:
Nexonia Inc. is a provider of leading web and mobile Nexonia Expenses, Nexonia Timesheets, Nexonia Time Off, Nexonia Time Allocation, Nexonia Purchase Orders, Nexonia Accounts Payable and other business financial management solutions. Nexonia's simple-to-use and highly customizable applications are fully integrated with ERPs, credit cards and other systems supporting a variety of businesses. Nexonia solutions are designed to streamline the reporting and approval process, improve human resource management and enhance operational efficiency.
To receive more information, visit http://www.nexonia.com or call 800-291-4829.